Chief Coach of Nigeria's boxing team at  the ongoing Commonwealth Games in India,  America-based Idika Nsofor, before departing for the Games  told ADEBOBOLA ALAWODE that  the five boxers that would compete at the event won't disappoint the nation.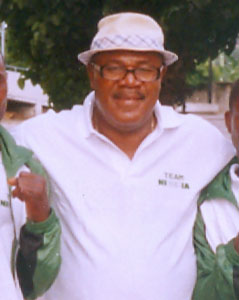 Finally the D-day is here and the team are about leaving, what should Nigerians expect  from them?
Well, the die is cast while the stage is set. The five boxers as you can see are in high  spirits and raring to go. There is nothing I can promise Nigerians than to say we are  going to give a good account of ourselves in India.
How prepared are the boxers for the Games?
They are well prepared. We have been in camp for months and with the level of training  that they have received, I don't see any boxer defeating them.
You sound so optimistic, why?
Yes, I repeat, no boxer can beat them or may be they will beat themselves if they meet.  They've been prepared very well for the task. I can boldly beat my chest and say it is  only the boxers that can beat themselves, because if they get into the ring and fail to  listen to instructions, then anything can happen.
What do you mean by anything can happen?
What I meant is that when some boxers get into the ring they turn deaf ears to the  instructions given to them, in that case anything can happen. But when a boxer listens to  you and add his to technique, at the end of the day both of you would be smiling because  he won the bout.
Don't you think your inability to embark on a European tour would affect the team's  performance in India?
I don't think that is an excuse for us not to do well in India. The boxers have what it  takes to become world champions but it depends on their zeal to be who they want to be.
Are the boxers aware of the computer scoring technique now?
The computer scoring technique is what is obtainable all over the world. I'm based in the  United States of America, USA, so I'm very much aware of how the scoring is done. I also  took out time to keep the boxers abreast of it. They have been briefed about how it  works, so we are not envisaging any problem.
Asia is far; don't you think the weather would be a challenge?
The weather won't be affect us since we have conditioned the boxers. They won't allow the  weather to hinder them from clinching medals in India.
How supportive is the Nigeria Boxing Federation, NBF?
I must confess to you, the NBF did its best in terms of preparing us for the Games. We  never lacked anything in terms of encouragement.
You've been in the USA for a while how do you feel coming back home?
It's good to be home. It is not easy returning home but I had to.
Why did you return home in the first place?
I came back home because I'm a patriot. I  want to help develop boxing in Nigeria, that's  what I need to do now.

Load more