As Nigerian football battles to extricate itself from the crisis that led to a suspension  from international football by FIFA early this week, other sports are bringing fame and  glory to the nation.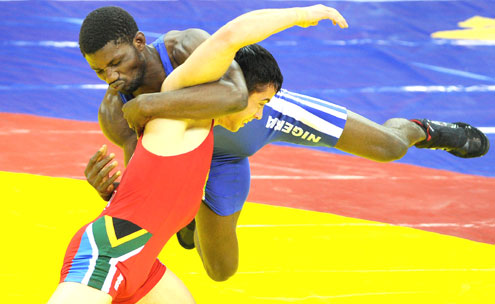 In far away India, venue of the 2010 Commowealth Games, Team Nigeria increased their  medal haul to three after schoolgirl, Augustina Nkem Nwaokolo won the first gold medal of  the Games for the country in the women's 48kg weightlfiting event on Monday. Yesterday  was a good day for Team Nigeria as Onyeka Azika won a silver medal in the women's 53kg  weightlifting event while Romeo Joseph won a bronze medal in the 60kg category of the  Greco-Roman Wrestling.
However, Nigeria's quest for a good performance in the boxing event of the Games got off  to a shaky start yesterday as mouthy Ganiyu Muideen was stopped by Ghana's Lawson  Fredrick in the 64kg. But,  another Nigerian pugilist, Lukman Lawal defeated  a Greek  boxer in another bout.
P.M.Sports gathered that president of Nigeria Boxing Federation, NBF Rotimi George-Taylor  will today leave for to India to motivate the other boxers who are still in contention in  the competition.
—Taiwo Adelu & Adebobola Alawode
Load more