The Acting Inspector General of Police, IGP, Mr. Hafiz Ringim has blamed his men for the  high rate of crimes especially in Aba, Abia State.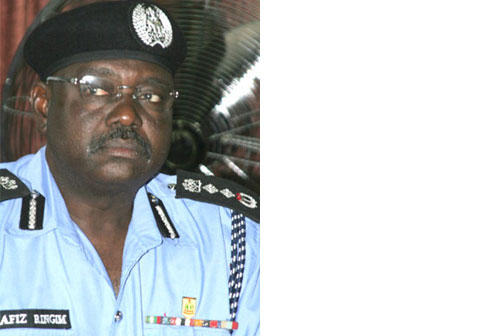 Ringim blamed the incessant armed robbery, kidnapping and similar crimes on policemen's  corrupt practices which he attributed to poor condition of service.
Addressing police officers in Umuahia, Abia State, during an official visit on Wednesday,  Ringim assured that the police will ensure a level playing field for all contestants in  the 2011 general elections.
He said necessary logistics had been provided for the police to ease their operations  during the general elections.
"The Federal Government has graciously approved our entire request for the conduct of the  elections and we can't afford to disappoint the country," Ringim said.
He assured that all outstanding allowances of the police officers would be settled before  the commencement of the elections as a morale booster.
Ringim said the gesture was to discourage corrupt practices by policemen.
"We don't want any police officer to go to any governor requesting for any form of help.  We don't have any reason to fail the nation at this crucial time," he said.
Ringim added that any officer found compromising laid down rules and codes of conduct  would be dealt with decisively.
Crime rate in Aba, the commercial centre of Abia state went to an all time high recently  with the kidnap of 15 school children. Their abductors kept them for more than a week  before they were released by security agents.
Worried by the incessant cases of armed robbery and kidnapping, traders in Aba trooped to  the streets last week to protest the insecurity of lives and properties.
Abia state Governor, Theodero Orji went on television last night to address indegenes of  the state assuring them that government sympatised with the plight of the residents of  Aba and that drastic measures would be taken to arrest the high crime rate in Aba.
The people's grouse arose from their belief that policemen contribute to high crime rates  in Aba because they were busy mounting road blocks and extorting money from residents  while armed robbers were robbing and killing the people.
Load more