Nobel laureate, Professor Wole Soyinka, has been chosen to present the lead paper at this  year's Annual Accountants' Conference of the Institute of Chartered Accountants of  Nigeria, ICAN. The theme is "Nigeria at 50: Economic Development & Socio-Political  Stability".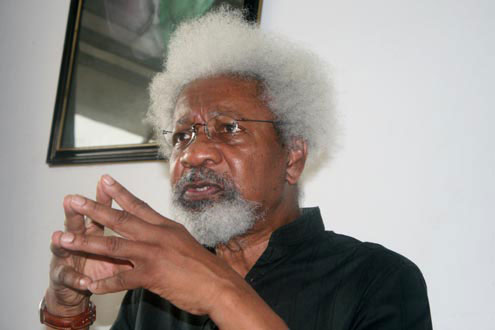 The conference which is the 40th in the series, will take place at the International  Conference Center and Sheraton Hotels & Towers, Abuja, between Monday, 11 October  and  Friday, 15 October 2010. It will be declared open by President  Goodluck Jonathan on  Tuesday, 12 October 12 and closed on Thursday, 14 October 14 by Vice President Namadi  Sambo.
The 46th ICAN President, Major General Sebastian Achulike Owuama, will deliver the  keynote address.
"As Nigerians celebrate the golden jubilee of their nation's independence," says Owuama,  "there is the need to evaluate and take stock of our economic development in relation to  socio-political stability. The objective of this would be to find solutions to the  socio-political instability in the country and proffer solutions and the way forward…This  Conference will definitely address problems affecting the economic development and  suggest solutions to socio-political instability in the country."
Apart from paper presentations, workshops, plenary sessions, there will be a Conference  Gala night on Thursday to be presided over by the Senate President, David Mark and graced  by other dignitaries such as the Chief of Army Staff. During the gala night, a Star prize  of a brand new Kia Rio car will be won at the raffle draw scheduled as part of the  conference fun package which include competitive sporting activities like golf, table  tennis, swimming, novelty football match, lawn tennis, jogging, squash, excursions and  business exhibitions.
Other prizes like LCD television, Gas cooker and 10 laptops will also be won at various  times in the course of the conference.
Ace musician, King Sunny Ade will be on hand to thrill the conference participants which  include seasoned professionals and senior financial decision-makers from various parts of  the globe as well as members of the National Assembly and Nigerian Government officials  invited to the conference.
Apart from Soyinka, other resource persons like the former Managing Director, Guaranty  Trust Bank (GTB), Mr. Fola Adeola, FCA and Acting Executive Secretary, Nigeria Accounting  Standards Board (NASB), Mr. Jim Obazee will also deliver thought-provoking papers at the  conference. While Professor Soyinka will present the lead paper titled "Nigeria at 50:  Economic Development & Socio-political Stability – Time for Stock Taking", Messrs Adeola  and Obazee will deliver Plenary Session Paper I and Paper II, entitled "Challenges of the  Chartered Accountant in Building a Stable Political Environment" and "IFRS: Global  Convergence of Financial Reporting for Competitiveness & National Development"  respectively.
According to the Registrar/Chief Executive of the Institute, Mr. Olutoyin Adepate, four  workshop papers have also been listed for presentation at the conference. Workshop Paper  I entitled "SME's Growth and Development: The role of Chartered Accountants" will be  presented by the Managing Director, Bank of Industry, Ms Evelyn Oputu; Workshop Paper II,  "Audit Quality Assurance: A Global Perspective" will be presented by the Senior Partner,  Pricewater House Coopers, Mr. Ken Igbokwe, FCA; while Papers III and IV entitled "Revenue  Assurance for Economic Development and Civil Society: Framework for Governance and  Regulation" would be presented by Messrs Anton Michael Bouwer and Richard Weaver.
Load more