Governors Ibrahim Idris, Temipre Silva and Aliyu Wamako of Kogi, Bayelsa and Sokoto states this morning failed to convince Justice Adamu Bello of Federal High Court, Abuja Division on the need to grant injunctive orders against the Independent National Election Commission, INEC, to restrain the electoral body from conducting gubernatorial elections in there states pending the determination of their respective suits.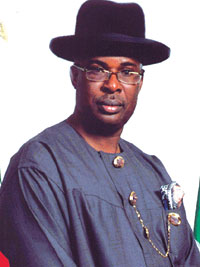 They had challenged the decision of INEC to conduct gubernatorial elections in their respective states alongside others in the forthcoming 2011 general elections. Their argument was that their elections were annulled by their respective states' Election Petition Tribunal before their victories were re affirmed by the Court of Appeal leading to their taking fresh oath of office and oath of allegiance. They are of the view that their tenure in office should begin to count from the date of their second oath of office and not the first.
Counsels to the governors; Mr. Lateef Fagbemi, Mr. Ladi Williams and Mr. Sunday Ameh, all senior advocates of Nigeria, representing Ibrahim Idris, Temipre Silva and Aliyu Wamako respectively consented to their cases being consolidated as all three cases seek basically the same reliefs, for ease of adjudication. They also collectively called on the court to grant interlocutory injunctions or restrictions against the electoral body and the Peoples Democratic Party from taking any action that would endanger the subject matter of their suits or foist a fait accompli; a state of helplessness on the court.
The duo of Mr. Onyechi Ikpeazu and Mr. A. B. Mahmud, both senior advocates of Nigeria, who represented the electoral body vigorously opposed the application for injunctive orders against the electoral commission and stated that the court cannot make any restraining orders against INEC in the conduct of its constitutional duties. They however supported the call for the cases to be consolidated.
Justice Bello in his ruling observed that where parties have submitted themselves before a court, that it behooves on them not to do any thing that will foist a situation of helplessness on the court but declined to make any formal order against the electoral body.
By Nnamdi Felix / Abuja
Load more