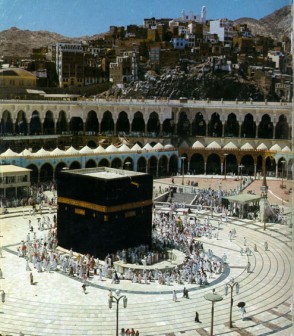 The Federal Government may spend about N14 billion on Muslims who will attend this year's  pilgrimage in Saudi Arabia, sources at the National Hajj Commission of Nigeria (NAHCON),  have said.
It was gathered that although 95, 000 Muslims in the country will take part in this  year's Hajj as the pilgrimage is known, the Federal Government will sponsor 26, 235  pilgrims.
Sources said that it will cost between N460, 000 and N540, 000 to sponsor each pilgrim  for this year's Hajj. The total amount to spend on 26, 235 pilgrims will be between N12  billion and N14 billion.
"The number of pilgrims for this year's Hajj is 95,000 and the government will sponsor  26,235. The allocation of Hajj seat for the states and officials under Saudi Arabia Royal  Embassy in Abuja for us this year is 95,000 and this includes the Medical team, the  Security and the Welfare team. As I am talking to you now, the Saudi Arabia Embassy has  issued about 15, 077 visas to some pilgrims and the issuance still continues,'' the  source said.

P.M.NEWS gathered that out of the total number allotted to the country, there are 10,000Â  special slots being given out to some wealthy citizens.
It was learnt that Niger State has the largest contingent of pilgrims for this year's  Hajj with 4,322 pilgrims. Lagos State follows with 3,896 pilgrims and Federal Capital  Territory (FCT) has 3,115.
The states with the smallest pilgrims are Ebonyi State, with just 8 pilgrims. Abia,  Adamawa and Akwa-Ibom States have 50 pilgrims each.
P.M.NEWS learnt that the first flight to Saudi Arabia from Nigeria will take off on  Friday, 15 October 2010.
After the pilgrimage, the last batch of the pilgrims will return to the country on  Thursday, 16 December 2010.
—Abiodun Onafuye/Abeokuta
Load more