The soccer community in Nigeria, especially the Super Eagles' camp, which have been quiet since Monday, following an indefinite ban on the country by FIFA, came alive this evening when the international body gave Nigeria a temporary reprieve, reversing its suspension on all international football activities involving Nigerian teams.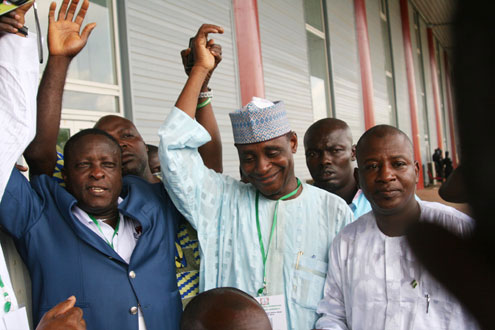 P.M.Sportsonline gathered this evening that the Federation of International Football Association lifted the ban temporarily till 26 October because of the prompt reaction of the government, which promised not to interfere with the administration of Nigerian football henceforth.
A statement released after the FIFA Emergency Committee meeting this evening reads: "The FIFA Emergency Committee decided to provisionally lift the suspension of the Nigeria Football Federation, NFF.
"The decision was taken after observing that the situation had taken a positive turn in recent days, with the claimant at the origin of the court actions publicly committing itself to withdrawing its claim, the acting General Secretary of the NFF returning to his post on 5 October 2010 and the issue of the Nigeria League being left totally within the ambit of the NFF."
FIFA said the suspension has been lifted provisionally until 26 October 2010, after noting that the next hearing before the court is scheduled for 25 October 2010, and that only then can the judge vacate the court orders.
However, FIFA maintained in strong terms that should the NFF continue to be embroiled in court actions or any other issue preventing it from working freely on that date, the suspension will be automatically confirmed until all problems have been definitively solved.
With the development, the Super Eagles, who have intensified their training in Abuja since last week, have been cleared to play this weekend's African Cup of Nations qualifier against the Syli National of Guinea in Conakry on Sunday.
FIFA, had Monday suspended all international football activities involving Nigerian teams because of what the body described as government's interference.
With the FIFA ban lifted, the Eagles and other Nigerian teams are now free to feature in any competition including friendly matches, while Nigerian clubs have also been cleared to feature in continental and international club tournaments.
Meanwhile, the reinstated NFF board, led by Alhaji Aminu Maigari has submitted a budget of N24m to the Nigeria Sports Commission, NSC to prosecute weekend's match in Guinea.
Reports from the Glass House in Abuja say a chartered flight is being arranged to airlift the Joseph Yobo-led Eagles to Conakry for the qualifying match.

By Tunde Oyedele
Load more