Former Minister of Education, Prof. Babs Fafunwa is dead.
The foremost educationist died this morning at the Hilton Transcorp  Hotel, Abuja.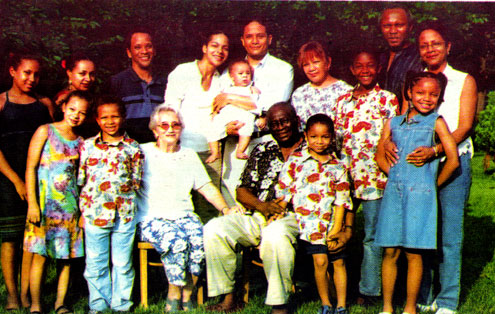 P.M.NEWS gathered that Fafunwa was in Abuja to give the keynote address at the Open University convocation in Abuja and also receive a honorary degree. He arrived Abuja on Friday for the event which had been cancelled thrice.
His son-in-law, Okey Ndibe, an assistant professor of English at Connecticut College, USA, confirmed Fafunwa's death to P.M.NEWS this afternoon.
Ndibe said he will remember three things about his father-in-law. The first was his great sense of humour. "He had incredibly funny stories to tell; he would rock with great laughter as he told the stories,"Ndibe said.
The second thing Prof Ndibe says he would remember about Fafunwa was  his "great intellectual energy" which he deployed by reading lots of books whenever he visited them in America; while the third attribute was his humility in spite of his outstanding accomplishments.
Prof. Fafunwa wrote several books, among which are New Perspectives in African Education, History of Nigeria Higher Education, History of Education in Nigeria, Co-author in Mother Tongue, Memoirs of A Nigerian Minister of Education, among others.
Professor Fafunwa  was born on 23 September 1923 in  Isale Eko, Lagos.
He had his secondary education at the CMS Grammar School, Lagos between 1937 and 1943. He obtained his first degree from Bethune Cookman College, Florida USA in 1958.
He later got his doctorate from New York University also in the USA. On returning back to Nigeria after his academic pursuit, he became a Professor of Education in 1966 and held the position of Dean, Faculty and Head, Department of Education at the University of Nigeria, Nsukka, UNN.
Due to his brilliance, he rose to the positon of Acting Vice Chancellor at both UNN and University of Ife (now Obafemi Awolowo University). He was also Pro-Chancellor and Chairman of Governing  Council, University of Calabar.
He was at several times, President, Association of Teachers Education in Africa, Director, International Council on Education for Teaching, Washington D C.
He retired from active teaching service in 1978 to start the first tutorial college in Nigeria in 1982 and was Minister of Education between 1990 and 1992.
He is survived by wife, Doris Elaine, children and grandchildren.

—Henry Ojelu
Load more