The Lagos State Government of Nigeria has concluded arrangement to evacuate victims of  the flood disaster at Ajegunle and some communities in Ikosi-Isheri Local Council  Development Area of the state.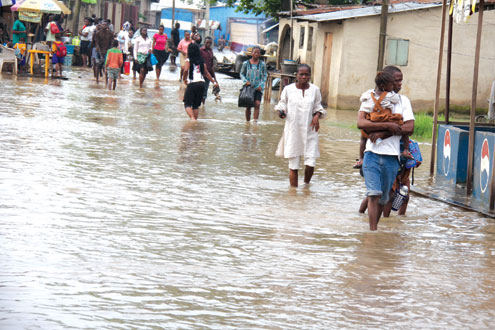 Thousands had been rendered homeless as a result of the massive flood which wreaked havoc  on about nine communities abutting the River Ogun, while some people were feared drowned.
The flooding was caused by the Ogun-Osun River Basin Development Authority that  released  water from the Oyan Dam into the Ogun River, making the river to over-flow its banks  and  causing havoc.
In order to salvage the situation, the Lagos State Government said it had concluded  arrangement to move the victims of the flood to the Lagos State Relief Camp, Agbowa, Epe  area of the state.
General Manager, Lagos State Emergency Management Agency, LASEMA, Dr. Femi  Oke-Osanyintolu told PM NEWS that the government was fully prepared to evacuate the  victims to the camp at Agbowa.
The Agbowa Relief Camp can accommodate between 500 and 1, 000 people and has adequate  facilities to cater for displaced people anywhere in the state.
According to Oke-Osanyintolu, the state government had begun enumeration of those  displaced by the flood and would move them to the camp anytime from now.
He said so far, at least 681 internally displaced people, including 405 children had been  enumerated while the people were still being  enlightened  about government's plan.
The LASEMA boss stated that the agency was only awaiting the pronouncement from Governor  Babatunde Fashola, giving the go-ahead to evacuate the victims to the camp.
"We are going to move them to our Agbowa Relief Camp and our commanders are already on  ground there.   We have enumerated 681 internally displaced people, including 405  children.
"Governor Babatunde Fashola and Dr. Tola Kasali, Commissioner for Special Duties have  taken over the process of evacuation.   The National Emergency Management Authority, NEMA  has given the state some relief materials.
"The United Nations Children Fund, UNICEF has also waded in and will be giving us some  materials.   The Director General, NEMA is also going to visit us soon.  All plans have  been concluded.   We are on top of the situation," said Oke-Osanyintolu.
"We have food to take care of the displaced people.   We have done it before and we will  do it again.  What we are doing now is to create awareness and sensitise the people on  good sanitary habit in order to avert epidemic," he added.
The affected areas are Ikosi-Ketu, Mile 12, Ajilete, Thomas Laniyan Estate, Owode Elede,  Owode Onirin, Agboyi, Odogun and Maidan.
As at the time of filing this report, Fashola was expected to visit the scene of the  flood with some of his commissioners and top government officials   to fast-track the  evacuation of the victims and to share in their pains.
—Kazeem Ugbodaga
Load more