Nigeria's Osayemi Oludamola has tested positive for Methylexanemine at the Commonwealth  Games and could be stripped of her 100m gold medal.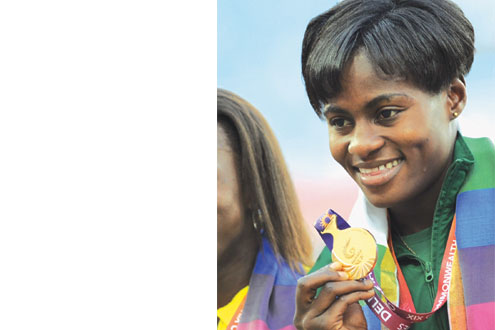 It was a national embarrassment and disgrace for Nigeria when the Commonwealth Games 100m  winner, tested positive for doping.
The Nigerian sprinter, who last Thursday won a gold medal in the 100m race despite  finishing second because Sally Pearson of Australia was disqualified for a false start,  tested positive for the banned stimulant Methylexanemine, Commonwealth Games Federation  President Mike Fennell said early today.
"Any positive test, whether it is in a high-profile event or not, is something that we  very much regret for a clean games, clean sport and a clean competition," Fennell said,  adding that no decision had been made on the medal.
"One doesn't know what kind of damage will occur as a result of this test but we just  want to let everyone know that we are very vigilant and the testing and laboratory  analysis are of the highest standards."
Fennell said Oludamola has been notified of the adverse finding and has requested the  testing of the "B" sample.
"This is something we just have to work with and make sure that we do our part in  monitoring and eliminating doping in sport," Fennell said.
The World Anti-Doping Agency (Wada) recently loosened the classification of  Methylexanemine for next year to the "specified stimulant" list, which covers drugs that  are more susceptible to inadvertent use and can carry reduced penalties. Sanctions for  use of the drug can be reduced if athletes can prove they did not intend to enhance  performance. Penalties can range from a warning to a two-year ban.
Wada said Methylexanemine was sold as a medicine until the early 1970s and has now  reappeared in some nutritional supplements and cooking oils.
Fennell said Oludamola's result was the first positive test of the games.
"We have conducted over 900 tests to date and we've had results from just over 700,"  Fennell said. "But unfortunately I have to record and report to you that we've had a  positive result."
Pearson originally crossed first in the race at the Jawaharlal Nehru Stadium in 11.28  seconds. But hours after celebrating her victory, the Australian was disqualified because  she had false started in the first attempt to run the race.
Oludamola was then given the gold medal, and Natasha Mayers of St. Vincent and the  Grenadines was moved up to bronze.
If Oludamola is stripped, then Mayers would stand to claim the gold. Katherine Endacott  of England, who crossed fourth in the race but received the bronze medal after the  disqualification, would then be moved up to silver and Bertille Delphine Atangana of  Cameroon would get bronze.
Oludamola also ran in the semifinals of the 200m on Sunday, but failed to advance after  finishing fourth in her heat with a time of 23.95 seconds.
Load more