The remains of Nigeria's Professor Aliyu Babatunde Fafunwa will be buried today in Lagos.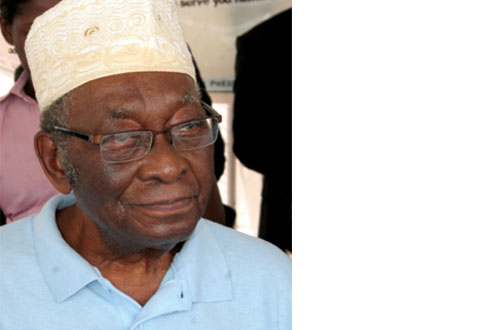 The former minister of education and a career educationist died in Abuja yesterday. He  was aged 87.
His death has sparked an outpouring of tributes by Nigerians and political leaders who  appreciated his contribution to Nigeria, especially on the introduction of the 6-3-3-4  progression in the nation's educational system.
Lagos State Governor, Babatunde Fashola, the Academic Staff Union of Universities, ASUUÂ  and the Nigeria Union of Teachers, NUT have all mourned the former Minister.
Fashola, in a condolence letter to Fafunwa's widow, Doris in Lagos,  said with the  passage of Fafunwa, Nigeria had lost a most committed educationist whose steadfast role  in the upbringing of many generations of Nigerians spanned several decades.
He said that both as a secondary school and later university teacher, Fafunwa gave a lot  to the education system in the country, a commitment which was acknowledged by his  elevation to the exalted position of Federal Minister of Education.
"His most impactful years of service to his fatherland witnessed innovative developments  like the 6 -3- 3- 4 system of education which sought to rescue the nation's education  system then on a downward slide.
"Even while out of office, Professor Fafunwa continued to work for the development of  education in the country through the numerous seminars, workshops and symposia to which  he was invited to deliver papers across the country.
"It is indeed a glowing testimony to Professor Fafunwa's commitment to the educational  sector that he answered the call of his Maker while in Abuja to deliver one of his  keynote lectures at the Open University in the Federal Capital Territory," he stated.
Also, ASUU President, Professor Ukachukwu Awuzie described the death of Fafunwa as a  great loss to the country, saying that the academic world would miss him.
"This is a great loss to this country. We just discussed how he could speak at an  education summit on the history of Nigeria education: where we got it wrong and what  could be done to revive it. But he is gone," he lamented.
According to Awuzie, Fafunwa was a father and a great educationist who had done much for  the country but that the government failed to implement his idea.
"Fafunwa's design on education in 1992 was a great idea that would have helped this  country tremendously but it is a pity that we lost a good man of enormous wealth of  idea," he added.
Reacting, the Nigeria Union of Teachers, NUT, Lagos Wing, described his death as a big  loss, saying that Fafunwa lived a life worthy of emulation.
Secretary of the union, Comrade Jamiu Idris said "Fafunwa was an outstanding Nigerian. He  was an educationist par excellence. Our hope is that the implementers of the country's  educational policies look and use his model."
He described the former minister as the apostle of the use of indigenous languages for  teaching in the country, adding that "This is a great postulation that the policy  implementer must use perhaps to immortalise this great Nigerian."
Idris commended Fafunwa for formulating the 6-3-3-4 educational system, which successive  governments in the country failed to adequately implement.
"The NUT and teachers will remember him for his love for education and the country. We  will miss him. He was a father to us all," he said.
The former Minister was about to be buried at his Victoria Island, Lagos home at the time  of filing this report.

—Kazeem Ugbodaga & Yisa Jamiu
Load more