Leaders of Idera Tuntun Community, one of the communities submerged by flood at Ajegunle  area of Lagos State, South West Nigeria stunned Governor Babatunde Fashola yesterday by  saying that they are happy about the flood that hit the area.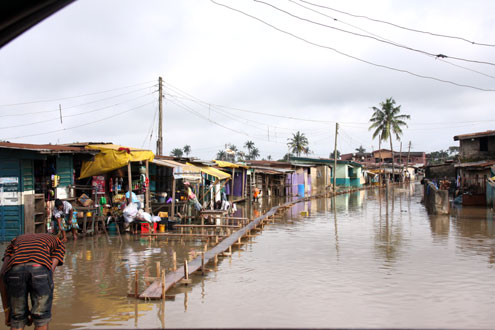 Baale of the community, Chief Gideon Ogundipe told Fashola that they were not ready to  leave the area, saying that the flood was a normal occurrence and a blessing for them  since they would now be able to catch lots of fishes to be sold to make money.
Ogundipe said the community had no inkling of any casualties or missing person, saying  that "I have been here since 1936, it has always been like that every year and we have  been living here like that with no problem.
"It has had no adverse effect on us but this year's surge is different as it is much.
We are used to this, we are happy with it because we eat from here as our business of  fishing is booming now. It will only be strange to those who are moving here newly. When  you get there, people are living there."
However, Fashola who visited the area to assess the damage caused by the flood hinted  that all the communities in that area would be relocated later but that only  681internally displaced people would be moved to the relief camp at Agbowa, Epe.
The governor lamented the plight of the people, saying that it is a "national disaster.  NEMA's intervention is coming too late; I have sent letters to them over the last three  years since I first came here.
"This place is not habitable but people stay here because they want to eke a living but  in doing so, we do not want them to lose their lives. The emergency toll lines are still  functional, more emergency help lines would be established; helicopter's surveillance  would be deployed to carry out the surveillance of the area."
Narrating how they had been surviving inside the water, one of the victims, Mr.  Kekechukwu Okoroafor told P.M.NEWS that "I don't have rest of mind since this flood  started. I used to put my foam on top of tyre and sleep.  Government should help us by  opening the water to flow out."
According to Mr. John Okorie, "my foam is soaked with water.  I used to sleep on water.   Government should give us good drainage channel."
Miss Okoro who waded through the water reaching her waist, from her house to meet our  reporter, said: "we put our stove inside water to cook.  We urinate and pass our waste  inside the water.  Government should take us away from here."
Mr. Olajide Ayejuni, who has eight children, lamented his plight as the water has entered  his house but continued to live there because he had nowhere to go.
"We have no hope; there is nothing we can do.   This water is rising every moment.   We  pack our bed up and sleep.  We will be happy if we are moved away from this area, this  flood has been occurring yearly; government should please provide a place for us to  sleep," he said.
A female victim who did not want her name mentioned lamented that she uses canoe to take  her children away from the house to the expressway to school and back every day, adding  that a snake was recently killed in one of the compounds in the area.
According to her, "in my compound, when you fetch water, you see tiny snakes there, it is  not funny.   Basically, I stay upstairs but my neighbours downstairs have moved away  because the water has destroyed their properties."
Mr. Adeogun, who has seven children, had been living in the area for the past 30 years,  lamenting that this year's flood was the worst. "I lift my foam up and sleep.  I have no  place to go," he said.
Apostle Samuel Ogundipe said: "my forefathers lived here 200 years ago; we don't want to  move away from here.   This water is not our problem; our problem is for government to  combat the flooding.  We have canoes that move us to and from this area."
Load more