Three weeks after the adoption of submissions by lawyers, the Court of Appeal sitting in Ilorin, capital of Kwara State, North Central Nigeria, will tomorrow deliver judgment over the governorship tussle between Governor Segun Oni of the People's Democratic Party, PDP, and Dr. Kayode Fayemi of the Action Congress of Nigeria, ACN.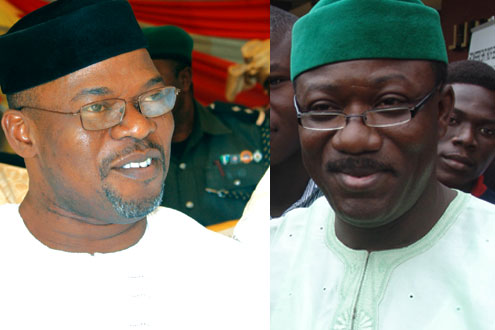 The chief bailiff of the Appeal Court sent a notice of the impending judgement via SMS to the lawyers to the two parties today. The lawyers had closed their cases on 23 September.
Fayemi is challenging the return of Oni in the 2009 rerun election held in 63 of 177 wards in the state.
The ACN candidate had filed a petition on 2 June 2009 against Oni's victory in the 27 April and 5 May 2009 rerun elections.
The reconstituted governorship rerun Tribunal, in a split decision of three to two last year, affirmed Oni's victory.
The judgment delivered by the tribunal chairman, Justice Hamma Barka, upheld Oni's election on the grounds that Fayemi's alleged electoral malpractices were not substantial enough to invalidate the results of the polls.
The majority ruling declared Oni winner with 109,000 to Dr. Kayode Fayemi's 106,000 after deductions of unlawful votes were made.
The minority ruling opposed this by upholding that the petitioners had duly and dutifully proved their case. Two judges supported the minority judgement while three judges endorsed the majority ruling.
Oni's election as governor has been contentious since 2007 with Fayemi challenging his victory rigorously at the Election Petition Tribunal in Ekiti State.
Oni was thrown out of office after the court of appeal upturned the decision of a lower court after the 14 April 2007 governorship election.
The 2009 rerun election in Ekiti State was marred by violence and intimidation, with many journalists attacked.
The Resident electoral commissioner, Mrs. Ayoka Adebayo, initially refused to announce the results of the re-run election. She claimed that she was under pressure to announce a doctored result.
She temporarily went into hiding, re-emerged and declared Oni winner.
Tomorrow's judgement will be delivered by five judges of the Court. It is expected that the special panel may be headed by Justice Ayo Salami, the president of the court.
—Simon Ateba
Load more