For a man who obtained his doctorate degree in War Studies at the prestigious King's College, University of London, many would think Dr. Kayode Fayemi's approach to issues should always be adversarial or combative. But not Fayemi. He is a man whose amiable mien belies his training as his attitude and philosophy always tilt toward peace.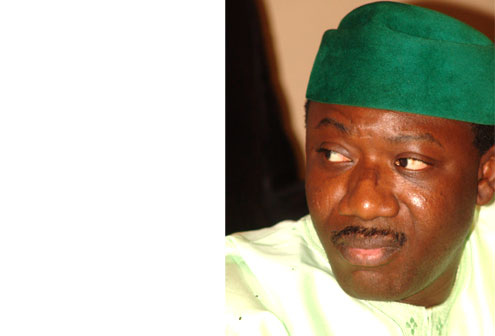 Convinced he won the 2007 governorship election and the 2009 rerun polls in Ekiti State, South West Nigeria, Fayemi never succumbed to calls from enraged supporters to match violence with violence to reclaim his stolen mandate.
He has been challenging the doctored results in court and hoping judges would deliver justice and declare him the winner.
Twice, the judgment did not favour him and twice, he challenged them in the higher court. The governorship tussle lasted three and half years, but, Fayemi has remained resolute and believes he will one day be declared the duly elected governor of his state.
He made reduction of poverty, delivery of good education and healthcare, the cardinal objectives he wants to pursue as governor.
Dr. Kayode Fayemi, a native of Isan-Ekiti in Oye Local Government of Ekiti State, was born on 9 February 1965.
He attended Christ's School, Ado Ekiti and received degrees in History, Politics and International Relations from the Universities of Lagos and Ife and his Doctorate in War Studies from the prestigious King's College, University of London, England, specializing in civil-military relations.
His research and policy interests include: Democratisation, Constitutionalism, Security Sector Governance, and Regionalism in the Global Context.
Fayemi is the immediate past Director of the Centre for Democracy and Development, a research and training institution dedicated to the study and promotion of democratic development, peace-building and human security in Africa.
Prior to his establishment of the centre, he worked as a lecturer, journalist, researcher and Strategy Development adviser in Nigeria and the United Kingdom.
He was Strategy Development Adviser at London's City College; research fellow at the African Research and Information Bureau in London, reporter with the newspapers, The Guardian and Tempo.
He was also editor of the political monthly, Nigeria-Now, management consultant at Development and Management Consultants and lecturer at the Police College in Sokoto State, Northern Nigeria.
As a prominent leader of the Nigerian opposition to military rule in exile, he was responsible for the founding and management of the opposition radios – Radio Freedom, Radio Democracy International & Radio Kudirat and played a central role in the opposition's diplomatic engagements in exile.
An account of the process and roles played in the setting up of Radio Kudirat may be found in Fayemi's book Out Of The Shadows.
Amongst his numerous academic and public policy engagements at home and abroad, Fayemi has lectured in Africa, Europe, the Americas and Asia. He has also served as an adviser on transitional justice, regional integration, constitutionalism, security sector reform and civil-military relations issues to various governments, inter-governmental institutions and development agencies.
He was the main technical adviser to Nigeria's Human Rights Violations Investigation Commission (Oputa Panel), which investigated past abuses and currently serves on the Presidential Implementation Committees on Security Sector Reform, NEPAD and the Millennium Development Goals.
He was technical expert to ECOWAS on small arms and light weapons and United Nations Economic Commission of Africa on governance issues. He is also a member, Africa Policy Advisory Panel of the British Government.
Fayemi is a Fellow of the Centre for Peace and Conflict Studies, University of Ibadan, Adjunct Professor of Security Studies at the African Centre for Strategic Studies, National Defense University, Fort McNair, Washington, D.C., USA. He was also a Visiting Professor in the African Studies Programme at Northwestern University, Evanston, USA in 2004.
Dr Fayemi serves on numerous Boards including the Governing Board of the Open Society Justice Institute, Baobab for Women's Human Rights, African Security Sector Network, and on the Advisory Board of the Global Facilitation Network on Security Sector Reform and on the Management Culture Board of the ECOWAS Secretariat.
He has written extensively on governance and democratisation, civil-military relations and security sector issues in Africa.
—Simon Ateba
Load more