The author of Fela Anikulapo-Kuti's biography, Carlos Moore, a Cuban, spoke with P.M. Entertainment about how he met the Afrobeat icon, the book, the struggle and other things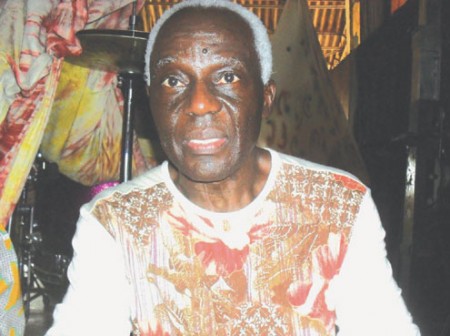 Who is Carlos Moore?
Carlos Moore is a Cuban, a political scientist, an ethnologist. I have a Ph.D in Political Science and Ethnology. I am also a professor of International Relations.
How did you meet Fela?
Well, I met Fela when I was working as a journalist in France. I worked as journalist in France for 10 years. I was contacted by the then Nigerian government, which was organising an international black festival. I was offered a position as senior Public Relations consultant to organise the public relations side of FESTAC. I came to Nigeria with my family in February 1974 and immediately I arrived the country, I heard Fela's music and fell in love with it instantly. I asked one person to arrange for me to meet him. So, I was taken to Fela by Dr. Ola Balogun and that was how we met.
How did the issue of his biography come in?
It happened instantly. It was love at first sight. He loved me instantly and I loved him too. We were both on political exile because I was in exile from Cuba. I was fighting the government of Cuba at that time on political issues and was just from prison when I met Fela and after explaining all that happened to him, he was surprised that such a thing was happening in Cuba too. We realised that he was in exile internally in Nigeria, while I was in exile externally from Cuba. From there, we remained inseparable. I used to come from Europe virtually on bi-monthly basis. We would be discussing and arguing over things.
When did he contact you to write the book?
He sent words to me in 1984 to come and see him. When I met him, he told me that there was a crisis and his mom died about four years back and that he wanted me to write a book about that because he felt unsafe. He thought he would also be killed soon.
How long did it take you to write the book?
It took me a year because I had some recordings and other materials, so he was in a hurry to have the book written. In fact, he told me that he might commit suicide.
Why?
He was afraid of being killed. He said "before they kill me, I would have killed myself," but was quick to add that "I don't know how I will take my own life but I want to kill myself now." That statement shocked me and I went back to work on the book. I employed about six other people to assist in the compilations. I had interviews and other things including jottings. I was surprised because this was a man I had known for over 10 years as a warrior but now contemplating suicide.
What of the technical aspect of writing the book?
Well, I used narrative structure but the publishers wouldn't take it. So, I wrote in first person and Fela had to authorise it. That was how the book was published.
What attracted you to Afrobeat music?
It is an unusual music. When I heard it, I knew it was a music I never heard before. It was a different genre of music entirely. I had listened to music from Asia, East Africa, West Africa and even Central Africa. I knew it was a different music entirely. It is a music that is out of the ordinary. When I started translations from pidgin to English, I realised it was something unique and said it was a break from other kinds of music. It was a way of using music as an instrument for social change.
How do you see Afro music as a weapon for change?
It is a music that has travelled far and wide. It is in Brazil, Colombia, India and other parts of the world. It has been changing people, giving them a different orientation that means something socially, while it grows virtually on daily basis. It is a music that assists people to trace their history. Afro music is about taking your destiny into your hands, so, it is left for you to change.
You said Fela contemplated suicide, what kind of person do you think he was, a coward?
No. At that time, he had been tortured, beaten and imprisoned. He was left alone by the entire society to fight the brutal regime all alone. Nobody was fighting with him even when he was jailed, beaten and brutalised, not even those who went on the streets. Fela was fed up and depressed then. He was in serious situation.
Are you the one selling the book?
I am not the one selling it. It is the publisher. The book came out 28 years ago and it was first written in French. It was only published in English when I went to England. It sold out in the 1980s when the Nigerian government condemned Fela and threw him into prison.
When did he contemplate suicide?
That was in 1981/82. He told me the story in 1981, I worked for a whole year and the book came out in 1982.
Did you have problems with the then government while writing the book?
Yes, I was arrested by the SCID. I was thrown inside the jail. It took the intervention of M.D. Yussuf to get me out of prison. My apartment was broken into and documents carted away while I was in prison.
Did you run away from Nigeria?
No, but I later left for Europe.
What are you doing now?
I am still into publishing. I have published nine books since then. The one in circulation now is what he told me, but the new one is about what I saw and what happened to Fela.
What is the title of the book?
It is tilted The Messenger of Chaos in the World of Law and Order.
What message for Africans?
My message is for us to have a united government of Africa.
Copyright protected by Digiprove © 2010 P.M.News
Load more