As Amos Adamu gets set to face the FIFA ethics committee on the bribery scandal on Wednesday, President of the world football governing body, Sepp Blatter has warned the Nigerian football administrator to refrain from media comments on the matter.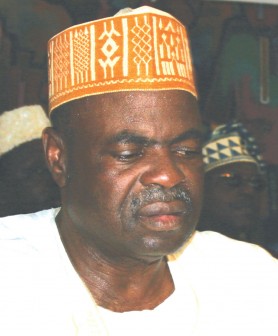 Blatter who was disappointed with the bribery allegation that involved Adamu and Oceania Football Confederation president Reynald Temarii of Tahiti warned the two personalities involved in the saga not to make any public comments on the matter until the organisation concludes its investigations. Blatter also wanted other members of the FIFA executive committees to refrain from talking to the press on the scandal.
He has written to all 24 executive committee members promising a full investigation into the allegations.
Blatter's letter says: "I am sorry to have to inform you of a very unpleasant situation, which has developed in relation to an article, published today in the Sunday Times titled: World Cup votes for sale.
"The information in the article has created a very negative impact on FIFA and on the bidding process for the 2018 and 2022 FIFA World Cups. Some current and former members of the executive committee are mentioned in the article."
He adds: "FIFA will open an in-depth investigation, which we will start immediately together with the FIFA ethics committee and the FIFA secretary general.
"I will keep you duly informed of any further developments. In the meantime, I would like to ask you to refrain from making any public comments on this matter."
Meanwhile, the FIFA ethics committee will on Wednesday begin investigation into the Sunday Times expose of Adamu and Temarii. FIFA's code of ethics requires that officials "respect the significance of their allegiance to FIFA, the confederations, associations, leagues and clubs and represent them honestly, worthily, respectably and with integrity."
Article 4.3 states that "officials who do not comply with this code or severely fail to fulfill, or inadequately exercise, their duties and responsibilities, particularly in financial matters, are no longer eligible and shall be removed from office."
The 57-year-old Adamu joined FIFA's executive committee in 2006, succeeding Botswana's Ismail Bhamjee who resigned after a ticket scalping scandal at the World Cup in Germany. Bhamjee admitted selling 12 tickets for the England-Trinidad and Tobago match for three times their face value.
However a source close to the executive, who asked not to be named, said both Adamu and Temarii could find themselves suspended or off the committee by then if the claims against them were substantiated.
"FIFA will not allow anyone or anything to damage the reputation of the voting procedure and it could be that 22 men might make the decision, not 24," the source said.
Copyright protected by Digiprove © 2010 P.M.News
Load more