The Movement for the Emancipation of the Niger Delta, MEND, has issued a fresh  threat to bomb any campaign gathering President Goodluck Jonathan might plan to  address.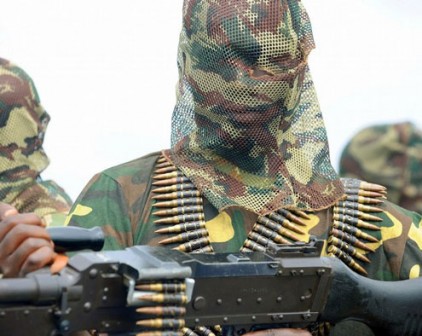 According to MEND in a statement released via electronic mail today, the group will  no longer entertain any enquiries, but it will send releases to media outfits to  warn or make statements of claim.
The statement issued by MEND spokesperson, Jomo Gbomo, warned residents of Abuja,  the Federal Capital Territory, and all Nigerians planning to attend political  campaigns of President Jonathan to be wary of their security.
"We hereby repeat our warning to residents of Abuja and all persons who will be  interested in attending his political campaigns to beware," MEND warned in the  e-mail.
"MEND attributed its position to what it called a split in the country that was once  united and the disunity in the Niger Delta region, which it said was sponsored by  the President.
The arrest and detention of its member, MEND claimed, also informed its stance  stressing, "the arrest and detention of our respected brothers and the assassination  of their characters have become of great concern to us. This we cannot ignore."
During the celebration of Nigeria's 50th year independence anniversary in Abuja, two  bomb explosions killed about 14 people and injured several others. MEND claimed  responsibility for the attack.
The group, which had earlier warned that it was planning to strike, also threatened  more bomb attacks. Security was later beefed up nationwide to forestall breakdown of  law and order.
A few days after the bomb blasts, coordinator of the Babaginda Campaign  Organisation, Dr. Raymond Dokpesi, was arrested by operatives of the State Security  Service, SSS.
He was questioned in connection with an alleged text message that one of the  suspected bombers sent to him.
Dokpesi was later released. But he denied sponsoring the attacks. None of the  suspects arrested in connection with the bomb blasts has so far been arraigned in a  court of law.
Meanwhile, the suspected former MEND leader, Henry Okah, is facing trial in South  Africa for alleged gun running.
During his trial, Okah was said to have admitted in evidence a diary where he  entered words like "a fight to the finish" two weeks before the Abuja bombings.
Copyright protected by Digiprove © 2010 P.M.News
Load more