Amos Adamu of Nigeria is about now facing the Ethics Committee of the Federation of  International Football Association, FIFA over allegations of  World Cup  cash-for-votes scandal.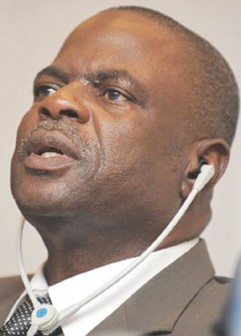 Adamu, a member of the Executive Committee of FIFA and the Confederation of African  Football, CAF with Tahiti's Reynald Temarii, both in the committee due to decide the  2018 and 2022 hosts would be sanctioned by FIFA if found guilty of the allegations.
And a further probe has been launched into at least two countries bidding for the  2018 and 2022 World Cups to see if they breached the rules by cutting a deal on  votes.
Journalists exposed the officials secretly touting for payments to vote for rival  nations' bids to stage the tournament.
A FIFA statement revealed: "Investigations are ongoing in relation to other FIFA  officials who may have been involved in the issue in question.
"An investigation has also been opened into the member associations in question as  well as their bid committees."
The host of the 2018 Cup is expected to be decided by FIFA's executive committee by  secret ballot on 2 December. But, the body may postpone the ruling due to the  scandal. England are up against rivals Russia and two joint bids, one from Spain and  Portugal and another by Holland and Belgium.
The Sunday Times has a video footage showing Adamu allegedly requesting for   £500,000 for "a personal project" in return for his support to undercover reporters  posing as US businessmen. It was alleged that Adamu asked for the said amount to  enable him build four astro turf to enable the game develop.
Both are accused of offering to sell their votes with Temarii allegedly seeking  funding for a $3m Oceania training facility to be built in Auckland. The Sunday  Times continued to follow up by approaching Russia, now seen as England's biggest  rival to the 2018 hosting rights.
Vitaly Mutko, the Russian Minister of Sport who is chairman of their bid, suggested  that The Sunday Times story was a case of pro-England 2018 spin. He said that though  he had been involved in negotiations with Adamu, there was nothing illegal involved.
The scandal has raised suggestions that the voting process should be delayed. But  Mutko said: "I don't think there is such a need because if we intervene with such  dramatic changes, we can spoil the whole process.
"I am convinced that this story should not influence in any way the process itself  and the decisions."
Copyright protected by Digiprove © 2010 P.M.News
Load more