Following the public outcry that greeted the recent suggestive photographs of  Charles Chukwuemeka Oputa a.k.a. Charly Boy and top broadcaster, Denrele Edun, in  the latest edition of an entertainment magazine, E24-7, both have said that they  have no regrets.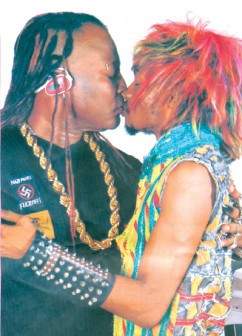 CB, as Charly Boy is popularly called, was captured engaging in a passionate kiss  and cuddling with Denrele in the photographs.
Speaking with P.M. Entertainment in separate interviews, the duo claimed that the  photographs are truly theirs and not a computer generated shots.
According to CB in pidgin english, "anything wey you like, go write, e no concern  me. When you wan print, you dey tell me before?"
Denrele Edun said when the publication came out, there were lots of comments from  people, adding, "you know Nija people, they will react but left for me, I don't owe  anybody any apology. I have every right to do anything I like."
Continuing, Edun said that the photographs were meant to fiddle with people's brain.  "Thank God, it is achieving the purpose. I have come a long way and I know what I  want at every point in time."
Reacting to whether CB is his gay partner or not, he said: "My sexual life is my  private business, it has nothing to do with the photographs. E je kan ma so lo, ki a  ma pa 'wo lo, meaning let people say what they like, I don't care.
Apart from the general public that has been commenting on Facebook and through text  messages, a top singer, who does not want his name mentioned, said: "Charly Boy can  do anything for publicity, but as for Denrele, I pity him."
Copyright protected by Digiprove © 2010 P.M.News
Load more