Two robbers were killed this morning in Ijebu-Ode, Ogun State South-West Nigeria as they engaged the police and the local security dubbed Obanta Safe and Security Vigilance Group, in a bloody gun duel. The encounter was at Moborode, the commercial area of the town.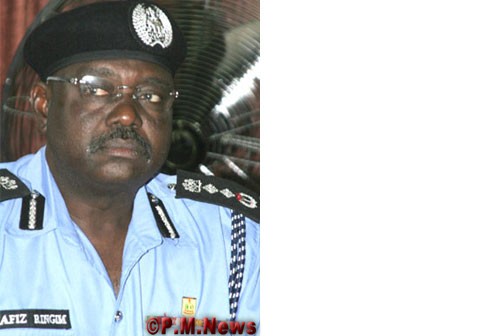 One of the residents killed by stray bullets was a recharge card retailer near the UBA branch, Ijebu-Ode. Also a 15-year old girl whose identity could not be ascertained died on the spot as bullets ripped open her stomach. Two other victims were feared dead during the robbery attack.
More than 20 others who were seriously injured have been rushed to the Ijebu-Ode General Hospital for treatment. Some of the victims are in critical condition.
The robbers, about 20 of them, later fled through Olukokun Street, Ijebu-Ode while one of them was arrested.
Two vehicles suspected to have been stolen were recovered from them. They are one Toyota Hiace bus with registration number XS 969 GGE and a red Space bus marked DZ 242 AGL. Items found in the vehicles include 10 rockets, arms and ammunition and three bottles of gin soaked with marijuana (Indian hemp).
Residents of Ijebu-Ode in their hundreds, this morning, trooped to the Igbeba Police Division to catch a grimpse of the dead robbers and the arrested one.
The area commander of Ijebu Police Division, Ayo Akinsanmi, an Assistant Commissioner of Police, ACP, said he was not prepared to speak with the press yet on the incident.
He, however, commended the residents, okada riders and all who cooperated with the police to fight the robbers. He said he will brief the press properly in the near future.
Akinsanmi said his men are still on the trail of the fleeing robbers.
Before their escape, the robbers succeeded in damaging the police Armoured Personnel Carrier, APC, which the Ogun State government donated to the Ijebu division.
As at the time of filing this report, the armoured tank was being towed to the Igbeba Police Station.
Markets, stores, eateries were hurriedly closed in the wake of the robbery attack.
Ijebu-Ode and several Ijebu towns, such as Ijebu Igbo and Ago-Iwoye, have been experiencing a wave of robbery attacks in recent months. Banks were initially the targets of the bandits, leading the GTB in Ijebu-Ode, for instance to close shop, after it was attacked twice. Banks have been permanently shut at Ijebu-Igbo and the Ijebu Waterside. Of recent however, the bandits have shifted attention to ordinary people.
—Biodun Onafuye/   Ijebu-Ode
Copyright protected by Digiprove © 2010 P.M.News
Load more