Supporters of former Head of State, General Ibrahim Babangida, IBB, booed President Goodluck Jonathan when he visited Kaduna for the official commissioning ceremony of the reinforcement of Kaduna-Mando 330/132/33KV transmission substation.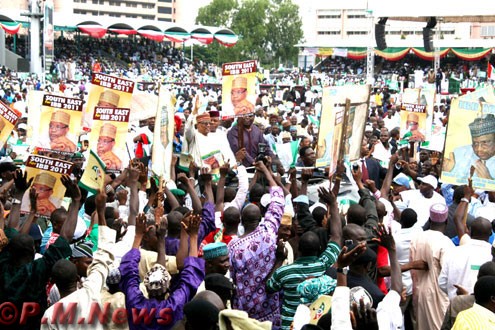 The supporters, who joined the rented crowd to welcome the President, waited until he completed the commissioning ceremony before they came out with posters bearing the portrait of IBB and shouting loud in Hausa as the President waved hands to the crowd outside the Mando Power Station.
They shouted "Sai IBB," and "Bamuasun Arna", meaning "we don't want Jonathan a pagan to govern us".
P.M.NEWS interviewed some of the IBB supporters who said it is either IBB or nobody.
According to them, Jonathan has betrayed the north and it would be very unwise and unfair to support his candidature for 2011.
On why they opted to support IBB instead of other aspirants from the north, one of them, Mohammed Kauru, told P.M.NEWS that it is only IBB that cannot be bought over by Jonathan.
Besides, they claimed that only IBB has genuine intention to vie for the 2011 presidential election among those that have signified interest to contest from the northern part.
They boasted: "we are waiting to see how Jonathan would win the PDP primaries, when indeed there was existing agreement for zoning".
By Femi Adi/Kaduna
Copyright protected by Digiprove © 2010 P.M.News
Load more