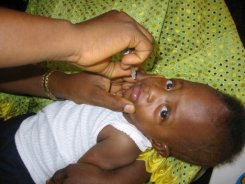 Fifteen countries in Africa are undertaking a mass polio immunisation campaign for 72 million children this week, the World Health Organisation said on Tuesday.
"This week Africa will be conducting a 15 country synchronised immunisation campaign with oral vaccine," said Rod Curtis, a spokesman for the WHO in Geneva.
"Some 290,000 vaccinators are going to go around door to door to reach 72 million children under five," he told journalists.
The campaign backed by UN agencies covers mainly West Africa, but stretches into Chad and Sudan.
It is the third of its kind to be carried out in Africa this year.
"These efforts are having very real results across west Africa where only Liberia and Mali have recorded any cases in the past five months," Curtis said.
Nigeria, which remains the only country in Africa never to have shed polio, held a vaccination campaign for 29 million children last week and has cut its caseload by 98 percent over last year.
Curtis warned however that there was little room for complacency with ongoing outbreaks in Angola and Democratic Republic of Congo that account for 48 of Africa's 58 cases over the last six months.
Immunisation will take place in the two countries from Thursday under the campaign.
Polio has spread again in recent years with cases imported from some of the four endemic nations in Asia and Africa, mainly Nigeria, in a setback to global attempts to eradicate the crippling and sometimes lethal disease.
Load more