Femi Kuti speaks like one of his many saxophone solos — hands aflutter, voice rising  quickly before a steep fall and hitting disparate pitches.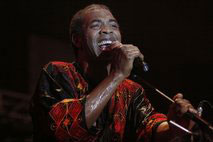 "I already believe we are already in a state of anarchy. But … Nigerians are very  resilient and are always praying and we want Jesus Christ to come down from heaven  and change Nigeria for us. We are ready to wait, wait, wait," the Afrobeat musician  told the Associated Press.
He adds: "It's boiling, slowly but surely. And if the government doesn't quickly  change … violence could start at any time."
The driving rhythms of Kuti's message follow that of his famous father, Fela  Anikulapo-Kuti, who created the synthesis of pop and jazz fueling Afrobeat and  served as one of the staunchest critics of military rule in oil-rich Nigeria. Now  the focus of a Broadway musical, Fela's mysticism and sexual exploits are reaching a  new audience.
But Femi Kuti, 48, learned from the excesses of his flawed rebel father. A two-time  Grammy nominee, Kuti found his own voice amid the growing noise in a Nigeria where  freedom of speech exists like never before in his lifetime — as well as a sustained  commercial and worldwide following.
"I know when to be light; I know when to be hard," he said in a recent interview.
The delicate balance of commercial success under the heading of world music helps  Kuti and sister Yeni Kuti to keep open the New Afrika Shrine, a relocated version of  the Shrine that their father lived and played in. The original Shrine, raided  repeatedly by police and later the military during Fela's life, burned to the  ground.
The new Shrine sits near the base of state government power in Lagos, Nigeria's  sprawling and exhaust-smoked megacity of 14 million on the coast of the Atlantic  Ocean. There have been noise complaints over the years, but nothing like the fury  that followed Fela when he lambasted the businessmen and politicians looting the  OPEC-member nation.
"A handful of unnatural, unbalanced people are running the world," Fela once said,  quoted by biographer Carlos Moore. He recounted seeing a rebel leader board a  first-class flight from Berlin to Lagos in 1978, picked up by Mercedes Benz sedans  at the other end.
"The leaders of the African freedom struggle will always want the struggle to  continue. For them, it means traveling around on first-class tickets and being given  VIP treatment wherever they go," he said.
Much of that rage focused on Olusegun Obasanjo, then a military dictator and later  an elected president who came from the same hometown as Fela's family. After Fela's  mother died following a beating by soldiers, Fela carried her casket to the  presidential estate in Lagos. It served a bold protest in a country cowed largely  into silence by military rule.
"At the time of my father, there was nothing like human rights groups in Nigeria,"  Femi Kuti recounted recently while backstage at the new Shrine. "He on his own  solely fought the military dictators at that time and the civilians that they passed  power through in the '70s and '80s."
But life wasn't easy for Femi growing up, as he competed for his father's attention  in a chaotic commune with the performer's more than 20 wives. When the military  arrested his father and sent him to prison before a 1984 U.S. tour, Femi took over  the band and displayed an innate business sense that kept the music alive, said Sola  Olorunyomi, a Fela biographer and professor at the University of Ibadan in Nigeria.
"All of this period, I think, came to shape Femi's own disposition to chart his own  course," Olorunyomi said. "For outsiders, the Fela experience is fun. But for  (Femi), it's real-life brutality, it's real-life denial, it's real-life sacrifice."
Fela died in 1997 of complications brought on by AIDS, a disease that sapped his  energy to perform in his last years and one he dismissed in song, calling protected  sex "unnatural." Today, a giant red placard at the Shrine warns concertgoers that  "AIDS is real" and Femi Kuti has appeared in awareness advertising.
Kuti continues to bring a business mentality to his music. He acknowledges some  songs critical of the nation's supposedly democratically elected government won't  get airplay on Nigerian radio stations that are leery of losing their licenses, so  he fashions apolitical tracks as well. He even offered his voice as a DJ on a funk  radio station in the violent video game franchise "Grand Theft Auto IV."
His songs offer a pop-like, frenetic pacing at times, such as the driving backbeat  of love story in "Bang Bang Bang." But others, like "Shotan," carry an angry  political message inside the pulsing rhythm: "Say the government of Obasanjo, go  carry all of us go for hell."
The song made Kuti's short playlist this October at "Felabration," an annual event  featuring Nigerian artists immortalizing his father. After the fireworks heralded  his appearance on stage at 2:10 a.m., Kuti played the song, which includes the  Yoruba language demand for the crowd to "get crazy."
The crowd obeyed his demand, many of them young men with blank eyes dulled by  smoking endless marijuana from loosely rolled cigarettes and drinking cheap gin.
"When you see all these young boys, dancing, jumping, you should be scared," Kuti  had said earlier backstage. "All these people, no work, all they want to do is  smoke."
But by that point, the crowd already drifted out of the Shrine and into the  surrounding streets. A fight between 20 men broke out near the entrance, pushing  their way back into the street as security guards carrying wooden batons entered the  melee.
No one had time, or the ability, to listen over the fighting.
Copyright protected by Digiprove © 2010 P.M.News
Load more