Ahead of the planned two-day maiden edition of the Kuramo Conference in Lagos, the  State Governor, Mr. Babatunde Fashola (SAN), Tuesday set the agenda for the  conference, saying Africa must be in the process to define what legal order will  define the present century.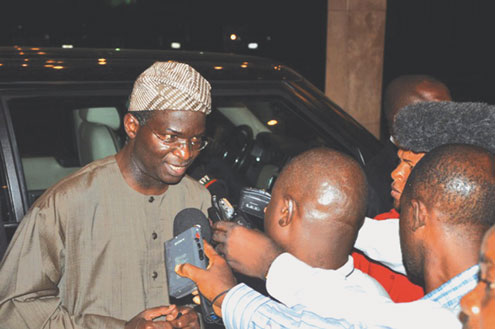 The Kuramo Conference is a biennial international summit of multi-disciplinary  experts and knowledge vendors drawn from business, finance, energy and the  environment. It is being organised by the Lagos State Government in collaboration  with the private sector.
Governor Fashola, who answered questions from newsmen at the Murtala Mohammed  International Airport, Ikeja on arrival from Abuja, said the time has come for the  African continent to have a voice in the global decision-making process, adding that  Africa could not afford to stay behind while laws were being made that would affect  the continent.
Pointing out that many of the regulations being applied today to regulate  international business and commerce were devised some 70 to 80 years ago by  Europeans, Governor Fashola declared, "Now we are in a new century, a new legal  order is necessary. There are new challenges now that laws made 70 to 80 years ago  cannot cope with. Now are we going to stand back again and allow those laws to be  made then we follow them?
"The truth is that in the global comity of nations, when important decisions are  about to be taken, for example, the aftermath of the global financial crisis,  decisions are being taken about how to re-regulate; where is Africa being  represented?"
According to him, "the whole world relies on our cocoa, our oil, our gas, our human  resources, our coffee, so many things from the African soil; but are our voices  being heard when decisions are being taken? That is what Kuramo is all about.".
Describing the conference as a conclave of the best brains that will begin to lead  the African voice, Governor Fashola declared: "The whole idea behind the Kuramo  Conference is to convene people to come and begin to think for us because what we do  here on this continent will define, in my view, the shape of this planet in this  century.
"It is not about Lagos. It is Africa now and I am certain in my thoughts that we  have the best intellectuals here." The governor added that the idea was to let Lagos  set the pace.
On the other benefits of the conference, Governor Fashola explained: "We will be  having many visitors in our state. This means that the hospitality sector will  experience a boom; the taxi drivers, the hoteliers, the restaurants and all of that  will benefit from the inflow of visitors."
The conference which will take place at the Eko Hotel and Suites, Victoria Island,  between November 2nd and 4th, will be chaired by the Chairman of the Independent  Corrupt Practices and Other Related Offences (ICPC), Justice Emmanuel Ayoola (retd).
Copyright protected by Digiprove © 2010 P.M.News
Load more