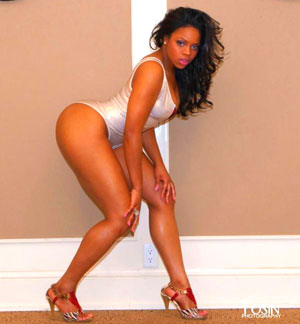 Nigeria-born Canada-based model, Tracy Obonna, a.k.a. Nigerian Bombshell, is a face  gradually gaining recognition in the arts and glamour cell.
Tracy, who barged into many consciousness with her raunchy appearance in the high  profile music video of reggae star artiste, Beanie Man, is set to fully use  modelling as a way to express her passion.
Tracy is everything beyond your ordinary model. She owns the kind of physique that  will get any camera to auto snap, understandably why she's often referred to more as  the Nigerian bombshell, a tribute to both her native descent and incredible frame.
She was born to Nigerian parents but her father's business ventures meant she spent  most of her early life growing up abroad, first living in Washington DC, where she  was born, London and currently Toronto.
Growing up outside the shores of Nigeria, the young Tracy found happiness in the  comfort of her home, playing together with her siblings, two brothers and three  sisters, while developing her passion for extra curricular activities including  dancing, acting, sports and athletics. However, it is modelling that turned out to  be her biggest passion.
Copyright protected by Digiprove © 2010 P.M.News
Load more