Do not be surprised if you run into celebrated monk and former president of the  Performing Musicians' Association of Nigeria (PMAN), Bolaji Rosiji, performing on  stage as a solo artiste.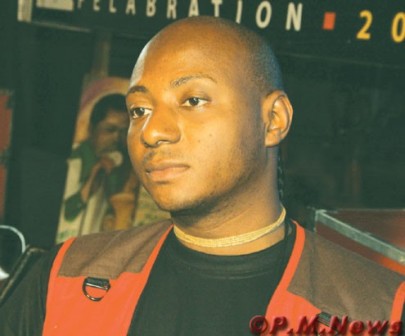 That is the new direction for the soft-spoken music enthusiast. In fact, to  underscore his readiness to hit the stage, Rosiji is putting finishing touches to  his single, Heart of Gold.
Before now, Rosiji said he had been looking for the opportunity to launch his own  album, "but work would not allow or you could say I've been lazy about it. So this  is a chance for me to come out as a solo artiste as opposed to only singing in the  church choirs of those days."
The song, he said, is a heart-felt tribute to the many golden hearted people of  Nigeria.
"If we can just vote in good leaders and get Nigerians out of this desperado cycle,  you will see what I mean. It is also a tribute to all the wonderful people that I  have encountered in this adventurous odyssey called life, people who have sacrificed  for me at times of need. And in particular, to all the so-called enemies, people who  had sought to bring me down, I offer special thanks," he said.
The inspiration for the song, he said, came from We Are The World done by the late  Michael Jackson featuring a constellation of music stars of the period, but his  version, he said, should be called We Are Nigeria.
When Heart of Gold is eventually released, it would feature a whole lot of Nigerian  artistes including Sir Shina Peters, P-Square, Tee Mac, ArtQuake, Adewale Ayuba,  Ara, Fatai Rolling Dollar, 9ice, Charly Boy, Lord of Ajasa and Daddy Showkey, among  others.
Perhaps one of the greatest investors in the Nigerian music industry in the last  seven years, Rosiji said "Heart of Gold is a positive song and I hope that parents  and children alike will be inspired by it."
Shooting of the video of the song is scheduled to begin in the next couple of days  and it is expected to feature some of these stars.
"We are talking to a number of production houses, to see who can provide the  appropriate combination of skills, equipment and film studio," he enthused.
Copyright protected by Digiprove © 2010 P.M.News
Load more