The hullabaloo surrounding the controversial zoning arrangement caused a mild drama,  Monday, at the Government House, Makurdi, Benue State, when Governor Gabriel Suswam,  Chief Raymond Dokpesi, IBB Campaign Director as well as Senator Kanti Bello  disagreed on the issue of zoning of the 2011 Presidency.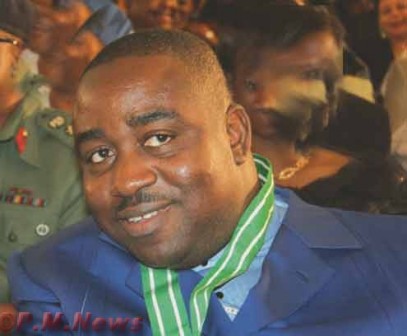 Governor Suswam said during a courtesy call on him by General Ibrahim Badamasi  Babangida (retd), the presidential aspirant of the People's Democratic Party, PDP,  in Government House, that zoning should not be an issue in the runup to next year's  presidential election.
The governor stressed that the PDP should work for the emergence of a good leader  with sterling qualities to govern the country.
He reminded IBB that section 131 of the Constitution of the Federal Republic of  Nigeria guarantees every Nigerian the right to aspire for the Presidency and called  on him to carry on his campaign devoid of zoning but on issues.
"That is why I am contending that the emphasis should be on achievements and  service, not zoning which could deny Nigerians the opportunity of electing credible  candidates," Suswam said.
He, however, commended the former Head of State for his achievements, saying  "without IBB Abuja would not have been what it is today".
But in sharp disagreement to Suswam's position, Dokpesi and Senator Kanti Bello  insisted that the PDP zoning principle should be respected, adding that zoning was  in the interest of fairness and equity in line with the agreement reached by the  founding fathers of the party.
They contended that it was based on zoning that South West was able to produce the  immediate past president of the country for eight years, noting that it would amount  to injustice if the goal post is shifted in the middle of the match.
Dokpesi stated that Nigeria yearns for a courageous and visionary leader like IBB  who has the will power to address the problems of insecurity, power and kidnapping  that have soiled the image of the country before the international community.
In his remarks, Babangida, who was in Benue to commission his multi-million naira  campaign office, lauded Governor Suswam for his leadership style, advising him to  sustain the tempo of development of the state.
Babangida admitted that he was still new in the political terrain of the country and  pleaded for support and encouragement of all Nigerians especially Benue people to  better their lot.
Amongst those who accompanied the former military president to Benue State are  former Senate President Ken Nnamani, former governors of Ebonyi and Rivers State,  Sam Egwu and Peter Odili respectively, Salisu Buhari, erstwhile Speaker of the House  of Representatives, members of the IBB campaign directorate and other stalwarts of  the ruling PDP from across the country.
They were received by Senator George Akume at the Makurdi airport and he hosted IBBÂ  and his team in his house.
—Ubong George/Makurdi
Copyright protected by Digiprove © 2010 P.M.News
Load more