Judging from recent tradition, President Goodluck Jonathan made history on Tuesday when he received eight ambassadors, an indication of growing confidence of the international community on Nigeria.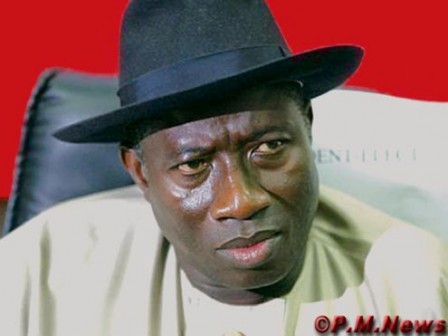 The President received letters of credence from the ambassadors of Uganda, The Netherlands, China, Indonesia, Egypt, Canada, Turkey and the United States of America in State House, Abuja.During bilateral talks with the new US ambassador to Nigeria, Mr. Terence P. McCulley, who replaces Ms. Robin Sanders, President Jonathan described relations between Nigeria and the US as very robust, and thanked President Barrack Obama and the people of the United States for their continued interest in Nigerian and African affairs.McCulley said the US "considers Nigeria as a great friend and partner", adding that his country will continue to work with Nigeria in advancing development in Africa.
While receiving the new Dutch ambassador to Nigeria, Mr. Bert Ronhaar, President Jonathan said his administration will leave no stone unturned in delivering free, fair and credible elections that will receive local and international acclaim in 2011.
As part of measures to achieve this, he said Government will ensure full compliance with all electoral laws, especially the stipulation that election results must be declared at the polling units.
"We are committed to conduct elections that will be acknowledged as credible both locally and internationally.
"This time around, we are committed to the philosophy of one man, one vote, and we will stick to our electoral laws, ensuring that results are declared at the polling units," Jonathan stated.
He also assured key stakeholders in the nation's oil industry that the Federal Government will do all it can to fast-track the passage of the Petroleum Industry Bill (PIB).
Acknowledging the historical role of Dutch firm, Shell, in the development of the nation's oil industry, President Jonathan said the Federal Government is aware of the importance of the PIB towards improving the operations of the oil industry and will facilitate its speedy passage by the National Assembly for the benefit of all stakeholders in the sector.
Mr. Ronhaar conveyed warm greetings from the government and people of the Netherlands, while expressing the desire of his government towards a speedy passage of the Petroleum Industry Bill owing to Dutch investments in the nation's oil sector.
The new ambassadors expressed confidence in the ability of the present Nigerian leadership to take the nation to its next phase of development.
They extended congratulations from their governments to Nigeria on her golden jubilee as an independent nation, and promised to take existing relations between their countries and Nigeria to greater heights.
Copyright protected by Digiprove © 2010 P.M.News
Load more