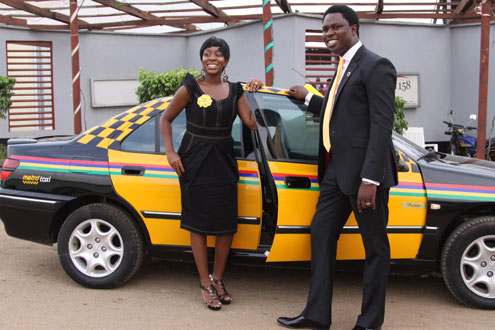 Top celebrities, corporate big wigs and the media witnessed the glamour and glitz at  the official launch of a new urban taxi project, the Metro Taxi styled after the  debonair cab service, as fashionistas showcased Nigeria's leading fashion lines,  excited the audience with upscale taste, panache and indigenous fabric that meet  international standards.
The governor of Lagos State, Raji Fashola, while unveiling the first taxi with  registration number Lagos MT 108 APP, through his  Commissioner for Transportation,  Professor Bamidele Badejo, said government's intention for inviting private  investors for the private taxi scheme was to make transportation in the state more  conducive for commuters.
"Today's launching by Metro Taxi is another landmark achievement in the state and  government is ready to associate with it," he said. He commended the Managing  Director, Metro Taxi, Mr Niyi Oguntoyinbo and his team for what he called their "I  can do" spirit.
Speaking at the official launch, Mr. Niyi Oguntoyinbo of Metro Taxi Limited said,  "Lagosians are already enjoying our first class service which comes in various  delightful service packages with exceptional value for every kobo spent. We are an  innovative taxi brand that is proudly Nigerian and poised to satisfy the needs of  our target customer by delivering value around convenience, safety and class. We  also boast of a well-informed, trained staff, combined with our extensive knowledge  of Lagos."
Metro Taxi would be playing a complementary role in assisting Lagos State Government  in reducing the transportation quagmire that has plagued the state. Metro Taxi also  comes with an insurance package for passengers during the ride in the case of a  mishap and has set itself apart from competition with unique services in terms of  billing, technology, customer service, safety and dispatch technology platform.
Nigerians who have been using the taxi service have also testified to the  timeliness, efficiency and comfort of Metro Taxi attesting to the fact that the  service has come to set a pace for leadership in the transport business. Metro  Taxi's world class standard delivery will have a huge impact in Lagos metropolis and  it's environ.
Copyright protected by Digiprove © 2010 P.M.News
Load more