The National Chairman of People's Democratic Party, PDP, Dr. Ekwesileze Nwodo, this  morning told newsmen that security had been beefed up around him because of threats  to his life over the dissolution of the party's Executive Council in Enugu State.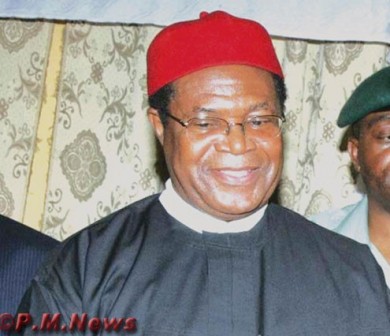 According to Nwodo, some persons carried his mock coffin around with inscriptions  "Nwodo must resign" and "Nwodo is killing PDP".
He further stated that Sullivan Chime, the Enugu State governor had influenced  lawmakers to move for his suspension from the PDP.
He also accused the traditional rulers from Ukehe in Igbo  Etiti Local Government  and  some politicians that they conspired against him for personal reason.
According to him, the moves by the South-East governors to reconcile him and Gov.  Chime failed because the governor did not  withdraw the suit to pave way for  out-of-court settlement.
Nwodo said that even the Catholic Church and well-meaning stakeholders interventon  could resolve the crisis as the governor refused to allow peaceful resolution.
He affirmed that the PDP state executive council remain dissolved. Therefore, the  zonal office will take over the running of the party pending its settlement,  according to PDP constitution.
—Jude Orji/Enugu
Copyright protected by Digiprove © 2010 P.M.News
Load more