The absence of Justice Ishaq Bello of the FCT High Court on Tuesday stalled the  ongoing N2.3 billion corruption trial of former National Chairman of the PDP,  Vincent Ogbulafor.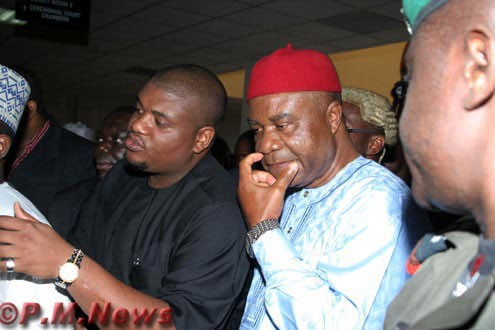 The EFCC slammed the N2.3 billion charge against Ogbulafor while he was the national  chairman of PDP.
No reason was given for the judge's absence on Tuesday's proceedings as the court  was besieged by members of the public, journalists and lawyers waiting for the case  to commence.
Bello had fixed Nov. 9, Nov. 10 and Nov. 11 for an accelerated hearing of the case.
It would be recalled that Bello had also ruled that Ogbulafor had a case to answer  after his lawyer, Mr Amaechi Nwaiwu (SAN), asked the court to quash the charges  preferred against him by the ICPC.
Ogbulafor had asked the court to quash the charges on the grounds that there was no  evidence linking him to the alleged offence.
But Bello held that after analysing the proof of evidence before him that he was of  the opinion that the prosecution made sufficient evidence to establish a prima facie  case against him.
Ogbulafor was in June arraigned by the ICPC on an amended 17-count charge alongside  Emeka Ebilah and Jude Nwokoro.
They were alleged to have conspired to commit the offence using their offices as  Minister of Special Duties, Secretary, National Intelligence Committee (NEIC) and  Director Budget Implementation, Federal Ministry of Finance, respectively.
They were alleged to have awarded contracts worth N2.3 billion to some fictitious  companies and verifying same as purportedly executed on behalf of the Federal  Republic of Nigeria in 2001.
Nwaiwu in an interview told NAN that the case had been fixed for Dec. 6 for hearing
"We were called by the court clerk and asked to pick a new date as My Lord will not  be available," he said.
Copyright protected by Digiprove © 2010 P.M.News
Load more