As the Nigerian Labour Congress, NLC, began its three-day warning strike today, banks, public and some private schools were this morning shut in Lagos and other parts of the country.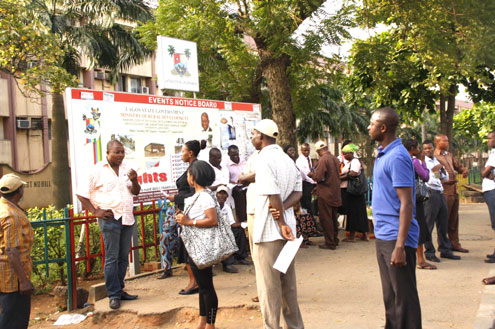 Checks by P.M.NEWS revealed that some banks in Lagos shut their doors to customers. Only those with Automated Teller Machine (ATM) cards were able to make some withdrawals.
Some of the banks that were shut include Zenith Bank, First Bank and UBA branches on Acme Road and Intercontinental Bank on Agidingbi Road, Ikeja.
Investigations also revealed that some banks in Shomolu and other parts of Lagos did not open for business. Others in Surulere were opened.
Teachers in public schools in Lagos also joined the strike. Most of the schools visited today were closed while some pupils who came to school were turned back. Some private schools in Lagos joined the strike in solidarity.
The Bus Rapid Transit, BRT, vehicles owned by the Lagos State government were off the road but hundreds of yellow-painted commuter buses were transporting passengers from one point to the other, contrary to assurances by NURTW leaders that they would join the strike.
Our correspondent in Victoria Island, Lagos reported that traffic was light, while public offices were closed as most civil servants did not report for work.  The few workers who reported for work at the Alausa secretariat of the Lagos State government this morning returned home when they found the gates leading to the secretariat locked.
The story is the same in other parts of the country. In Kaduna State, our correspondent reports that commercial activities were paralysed as a result of the strike. Banks and government offices remained closed while a team of labour union officials moved around to enforce the strike.
The few workers who turned up for work were turned back by the union officials. NLC Chairman in the state, Comrade Daniel Bissala, told P.M.NEWS: "This time the strike is total and the congress will not call it off until the Federal Government heeds our demand for a new minimum wage. We are holding a NEC meeting today and we hope to come out with our position later."
He disclosed that labour will not compromise on anything less than the N18,000 as minimum wage.
In Oyo State, judicial staff in both the magistrate and high courts defied the strike by reporting for work.
Our correspondent also observed that civil servants did not report for work at the state secretariat, Agodi, Ibadan and secretariats of the local governments.
Most of the judicial staff who reported for work told P.M.NEWS that they came to work because of a circular signed by the Chief Judge of the state, Justice Badejoko Olateju Adeniji, directing workers not to participate in the strike or else they would be summarily dismissed.
They berated the Chief Judge for compelling them to come to work against the order of the NLC.
The President of Judicial Staff Union of Nigeria (JSUN), Comrade Jelili Bayo Obisesan, confirmed that there was a circular to that effect.
"We have not joined the strike because the chief judge instructed us not to obey it. We don't want to be sacked. That is why we came to work. But we are about to see the chief judge to let her know that this is a national call and we have to obey it. We have reported for work today but I am sure that we will not come tomorrow," Obisesan stated.
Workers of the University of Ibadan, UI, did not join the strike as they reported for work. The campus shuttle buses also defied the NLC strike by moving in and out of the campus carrying students to their destinations.
Most commercial banks in Ibadan opened for business and attended to their customers.
A bank official disclosed that there was no directive from the bank's headquarters that they should not work, saying that the bank will attend to customers.
However, all primary and secondary schools were closed as teachers did not turn up for work.
In Port Harcourt, the traffic situation in many parts of the state remained stable this morning. Filling stations were opened, though there was panic buying yesterday evening.
Both the Federal and the state secretariats were closed down, as workers who reported for duty at the Federal Secretariat went back home. Though private schools opened, all public schools were shut.
The Rivers State Police Command banned public procession or rally of any kind. The command's Police Public Relations Officer, PPRO, Akin Fakayode, said the police feared such gathering could be hijacked by hoodlums.
Similarly, the Rivers State Commissioner for Information, Mrs. Ibim Seminitari, in a statement said though the government recognised the right of labour to go on strike, the action should be devoid of public demonstration that could lead to break down of law and order and destruction of public properties.
Also in Kwara State  the strike was observed. All banks, public schools and government offices were closed. Students who had gone to school were seen returning home early in the morning.
At banks, there were long queues of people who want to cash money with their ATM cards.
However, filing stations were opened while inter and intra city transport services were also in full operation.
In Ijebu Ode in Ogun State, public schools were this morning closed as a result of the strike. But some schools which are centres for the ongoing National Examination Council, NECO, exams were opened.
The traffic is light because commuter buses in the intra city and inter state were operating skeletal services. All the parks were closed.
Commercial motorcycle and tricycle operators took advantage of the the situation by increasing the fare by 20 to 50 percent as many commuters were stranded.
Similarly, government activities were paralysed in Jalingo, Taraba State this morning. The Chairman of NLC,  Taraba chapter, Comrade Jonah Kataps, at a press briefing in Jalingo said the union had to go on strike.
When P.M.NEWS went round Jalingo this morning, all government offices were closed. At the state secretariat housing 16 ministries, no worker was seen at about 9.30a.m.
Also banks and private companies as well as public schools were closed. Jalingo market were opened to customers but one of the market officials, Mallam Isa Mohammed, told P.M.NEWS that they were waiting for order whether or not to shut the market.
In Enugu State workers at the federal secretariat, Independence  were not allowed entry. All gates leading to government offices and establishments were locked.
A survey across Enugu showed that all banks were shut. The traffic was light because a few people were on the roads.
From Benin City Edo State, comes the report that a yet-to-be identified official of the NLC was this morning shot dead at the Benin airport. The union official was said to be trying to enforce the strike when the police shot him and he died instantly.
In Abuja, some public and private schools were shut while skeletal services were rendered by a few civil servants at the Federal Secretariat. The strike has been called off this afternoon.
—By Our Reporters
Copyright protected by Digiprove © 2010 P.M.News
Load more