Police detectives attached to Ilaro Divisional Headquarters, Ogun State, have  arrested 2 persons who attempted to defraud Golden Chance Lotto of N22 million.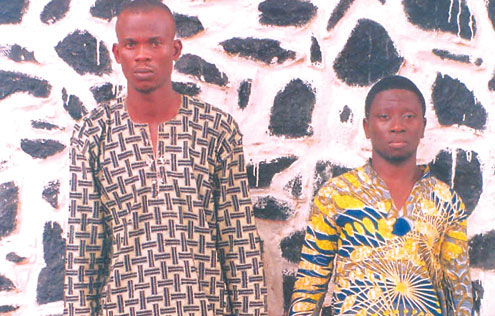 The suspects are Toyosi Olufowobi and Adekunle Tunde.
P.M.NEWS investigations revealed that the suspects perfected their act by calling  one of the sub-agents of Golden Chance Lotto in order to conspire with him to  defraud the lotto company. As the sub-agentplayed along with them, he also informed  the police who later got them arrested.
According to Oluwofobi, "we came to Ilaro from Ijebu-Ode . We had earlier reached  the Golden Chance Lotto sub-agent on his mobile phone that we were coming to see him  so that we could stake some numbers and the sub-agent asked us how it would be done.
"When we got to Ilaro the sub-agent introduced us to principal agents and they  listened to our plan. We told them that we have some syndicates in Nigeria and Ghana  and that after they might have drawn in Ghana, they would send the results and we  would use it to win here. The winning numbers would have fetched us N22 million.
"The submission is usually 7 p.m. and we told them not to close the bag with padlock  so that we can put in the winning numbers, but unfortunately, they played along with  us and they also informed the police who later arrested and charged us to court.
"Our plan was to give the principal agent N1 million, sub-agent N1 million and the  representative N1 million. We have defrauded many lotto companies of millions of  naira. We also tried to defraud Premier Lotto but it was difficult for us to do so."
The suspects have since been charged to Ilaro Magistrate's Court and they are  presently being remanded at Ilaro Prisons, while the case was adjourned till 10  December, 2010.
An Opel car that belongs to the suspects has been impounded and parked at Ilaro  Police Station.
—Ticker Koseunti & Tunmise Ige
Load more