The State Security Service, SSS, this afternoon in Abuja said it had made new findings in the course of their investigationof the October 1st twin bombings in Abuja. The security agency said that investigations has revealed that not all of the vehicles purchased and wired by Mr. Henry Okah for the bombings were detonated. One of the vehicles has been recovered at a Hotel in Port Harcourt, Rivers state where it was parked and has been towed back to Abuja. It is an ash coloured Mazda 626 with registration number BY 318 FKJ (Lagos)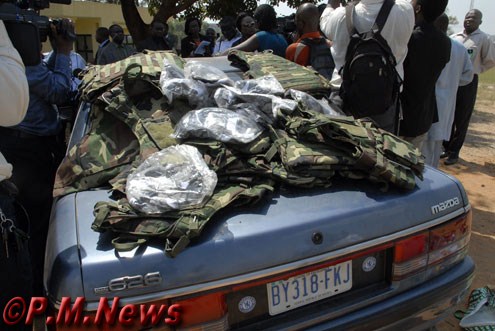 Assistant Director and head of Press Relations at the security outfit, Ms. Marilyn Ogar, at a briefing this afternoon at the agency's headquarters in Abuja stated that one of the suspected bombers in the custody of the agency had revealed that one of the vehicles meant for the Abuja bombings was left in Port Harcourt after Mr. Okah had finished wiring and loading it with bombs it and that it was left under the care of his sister. The SSS followed up on this piece of information and traced the wired vehicle to the hotel in Port Harcourt from where it was recovered.
Also recovered in the course of further investigations were military items that were sent by Mr. Charles Okah, Henry's younger brother, to one of the suspects for onward movement to militants in the creeks. These items include military boots, water bottles and camp tents. These items were sent through an unnamed popular Transport Company which runs Cargo Courier services from Lagos to Port Harcourt.
Ms. Ogar also informed that some military wares were also found in the recovered wired vehicle. According to her, these include ten units of bullet proof jackets and many camouflage vests.
While restating the determination of the agency to pursue the ongoing investigation to its logical concussion when all culprits would have been apprehended and prosecuted, the Service warned all Transport and Courier companies operating in the country to be more circumspect in handling goods for customers, as they would be held responsible for conveying prohibited items. Car dealers were equally advised to obtain full particulars of persons purchasing cars from them, to avoid being held liable on grounds of suspicion for the misdeeds of others.
By Nnamdi Felix / Abuja
Load more