A Canadian, Mr. Romeo Gongora has expressed his love for the local delicacy,  'moin-moin', widely eaten in Nigeria, saying that he is never tired of eating it.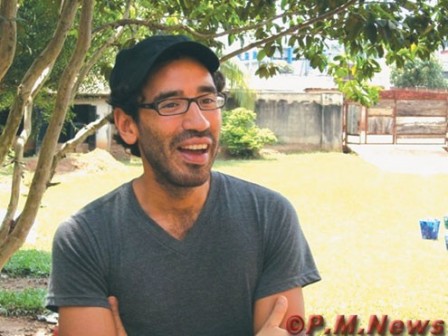 The canadian demonstrated this during his visit to an Arts lover, Mr. Obi, at Ajowa  community in Ojokoro Local Council Development Area of Lagos State, South West  Nigeria. Mr. Obi was hosting a two-week workshop on arts with the theme: 'Triangle  Artist Workshop.'
Speaking with P.M.NEWS while eating moin-moin, Gongora described it as his best  local dish.
"I like 'moin-moin' a lot. I can eat it three times a day without getting tired.  'Moin-moin' is so spicy. 'Moin-moin' used to make my mouth pepperish. Sometime, I  ate it thrice in a day and I'm never tired of it. I've requested the woman who  prepared it to teach me how to do it so that when I return home, I will be preparing  it on my own," he said.
He also expressed his disapproval for another local food, 'eba'.  "When I first came  here, I was eating light foods like rice, bread, fried plantain and others.  I also  tried 'eba' once but I could not eat it," he said.
The Canadian spent a week among people at the grassroots and described his  experience as an eye-opener. He expressed dissatisfaction with the lack of social  amenities in the area. "The community lacks good roads, water, electricity and  public schools. I am appealing to the government to come to the aid of the people by  providing them with these amenities," he stated
According to Gongora, "I have come face-to-face with social problems posing  challenges before ordinary Nigerians. If what I saw at Ajowa community was happening  across communities in Nigeria, the government needs to do more for the citizenry.
"I can't say I know Nigeria because I stay for just two weeks. I saw a good  weather, a serene environment and a place that keeps one away from urban Lagos but I  can't understand how people are still surviving with their kind of roads. There is  no water and electricity. Our host spent much money on buying diesel to run the  generator. This makes living expensive, even in the community.
"This environment is a very interesting world on its own. Everywhere is polluted;  there is pollution of air from generating sets all over the place. I experienced  pollution of sound from loud speakers from nearby churches. I saw young boys, girls  and sometime mothers searching for drinkable water.
"The state government needs to come and assist the people in this community. From my  findings, these people have been neglected and it corroborated what I have heard  about countries in Africa," he said.
On the goal of the workshop, the Canadian explained that it was aimed at picking  local artists for international exposure, adding that the workshop was vital for  Nigerians because it could create the desired changes for the society, particularly  school leavers and young graduates.
The workshop focuses on Film, Dancing, Painting, Photography, Graphic design,  Painting and Illustration, Painting, Visual-Art, Writing and Sculpture.
"I am a facilitator and we assist artists to move abroad because some residents over  there are ready to pay for the welfare of such artists. Art can change a lot of  things and there are several opportunities in it," said.
—Kazeem Ugbodaga
Load more