Officials of the National Drug Law Enforcement Agency, NDLEA, this morning threw  more light on the intercepted Iranian ship carrying 130 kilogrammes of concentrated  heroin at the Tin Can Island sea port in Lagos, South-West Nigeria.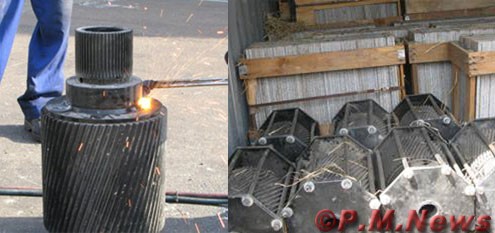 The seizure came about three weeks after operatives of the State Security Service,  SSS, intercepted at the same port 13 other containers that originated from Iran,  filled with dangerous weapons.
The ship carrying the arms,  MV CMA-CGM Everest was seized on 26 October 2010.
NDLEA's Head of Public Affairs, Mr. Mitchell Ofoyeju, said that the street value of  the drug seized in Lagos is about N650 million.
The agency said in a statement that the drug was industrially concealed inside  auto-parts. Ofoyeju disclosed that the intelligence report that led to the seizure  of the ship was received four months ago from foreign informants.
He said: "It was however jointly examined by all security agencies at the Port in  expectation that the container was carrying explosives.
"After the initial inspection and when no explosives were found all agencies left  for their various offices but the NDLEA remained and insisted on carrying out more  comprehensive examination of the container based on the intelligence available to  it.
"Industrial welders invited by the agency had to cut the equipment open to reveal  the drugs. This action finally paid off as the drugs were finally traced to some  cylindrical equipment in which the substances were found. Already, some arrests have  been made in connection with the unlawful cargo."
Chairman of NDLEA, Ahmadu Giade, said that the discovery of the heroin marks the  success of the first phase of the covert operations.
"The discovery of the 130kg of heroin uncovered by the NDLEA at the port last night  marks the beginning of intense investigation. We are still monitoring events to  perfect investigation activities" Giade stated. The anti-narcotic boss also stressed  that the Agency was working on other cases and at the appropriate time, seizures and  arrests will be made.
"Drug barons will be frustrated out of the illicit drug business through similar  undercover operation. We have successfully established links with our foreign  collaborators and will maximise every opportunity to dismantle drug trafficking  cartels in the country and West Africa" Giade promised. He also stated that the  agency will collaborate with other agencies in its operations. "The Agency will  partner with relevant agencies in line with internationally accepted rules of  intelligence gathering," Giade said.
NDLEA said that investigations are ongoing.
On 22 July 2010, 450.400 kilogrammes of cocaine was intercepted after it arrived the  country from Chile. A Taiwanese, a Chinese and three Nigerians are currently facing  trial over that seizure.

—Simon Ateba
Load more