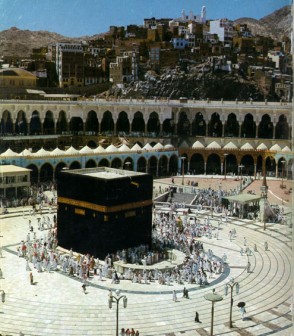 About 4,000 pilgrims from Lagos State who performed this year's hajj in Saudi Arabia  will start arriving the country from 30 December. This is a clear 42 days after the  completion of hajj. The airlifting will be on for five consecutive days. That means  most of them will not leave Saudi Arabia until the New Year.
The long delay, it was learnt,  had to do with the transport arrangement made for  them by the federal government.
The hajj rites were concluded at the weekend but several Nigerian pilgrims will stay  long in the holy land, with Lagos pilgrims given 30 December to start departing  Saudi Arabia.
Commissioner for Home Affairs and Culture, Alhaji Babatunde Balogun disclosed in  Makkah that the pilgrims would start leaving by the end of December, adding that  weighing of cargo had begun and will end on Tuesday.
Balogun hinted that the option to weigh the luggage before the departure of pilgrims  was to eliminate the anxiety often experienced by pilgrims while waiting for their  luggages weeks after the hajj exercise.
The commissioner, it was gathered, also admitted that there were problems during  which some of the pilgrims from the state went wild , adding that everything was  quickly arrested.
"The metro line system introduced for the first time by the Saudi Arabian  government did not help matters at all. This is because we have no hand in anything,  including transportation and the food eaten by our pilgrims during this hajj. It is  the federal government through its agent, National Hajj Commission (NAHCON) that was  in charge of food for all pilgrims in Arafat and Mina.
"That, coupled with the sudden decision of the host country to reduce the buses to  convey our pilgrims from Arafat to Mina from the earlier promised 50 to 17 affected  us. The situation became tense when it was again discovered that the over four  million pilgrims from across the globe wanted to leave Arafat for Mina at the same  time. The situation was better imagined than experienced," he stated.
He recalled that the pilgrims became rowdy at a time "but we were able to let them  see reason with us. Frankly, the pilgrims displayed more maturity than necessary  because most of them even made do with our emergency plan to evacuate them to  Musdalifah for onward journey to Mina."
—Kazeem Ugbodaga
Copyright protected by Digiprove © 2010 P.M.News
Load more