Governor Ibrahim Shekarau   on Tuesday, 23 November lay  the foundation stone of the N3.8 billion ultra modern medical centre sponsored by American pharmaceutical giant, Pfizer for construction in Kano city.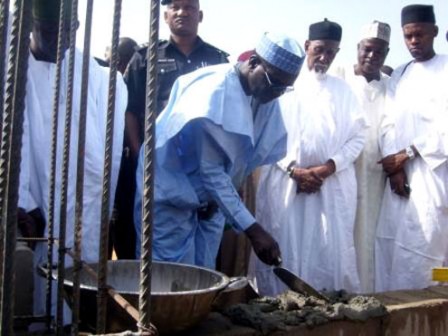 The project which was part of the out-of-court settlement agreed to in 2009 between Pfizer Inc. of USA and Kano State government over the 1996 trial of anti-meningitis drug, Trovan in the ancient city consists of a Diagnostic Centre, Centre for Disease Control, Public Health Laboratory, Micro Biological Reference Laboratory; and a Staff Housing for the Centre.
According to Professor Shehu Galadanci, Chairman Kano/Pfizer Healthcare Programs Trust Board, established to bring the Healthcare related projects into fruition, contracts for the various aspects of the medical centre have already been awarded to contractors chosen after competitive bids.
He also revealed that Kano State government donated the land for the project as part of the mutual agreement with Pfizer.
The $25.5 million ( N3, 825,400,000.00 comprehensive medical facility, Galadanci said, is in addition to compensation package negotiated for participants in the Trovans trial by Governor Shekarau.
Professor Galadanci said when completed, the facility will not only be one of its kind  in Nigeria, but in the West African sub-region  and give the general populace of Kano access to modern medical facilities that is within their reach.
"This medical center when completed will have state-of-the-art Diagnostic equipment for the diagnosis and treatment of many conditions, including Cancers and Serious life threatening infectious diseases that are presently treated only in overseas countries, in Europe and America", said the Chairman of the Healthcare Trust Fund.
"This facility now appropriately located out of town will replace the presently dilapidated infectious Disease Hospital (IDH) which is now in the heart of the city, against the modern medical practice.
On its part, the America drug giant said it is glad to be part of the medical facility project.
"Pfizer is extremely pleased to be a part of today's ceremony, which is a significant milestone in the implementation of the Trovan settlement agreement. The construction of a new state-of-the-art medical center in Kano is proof positive that Pfizer continues to fulfill its commitments to Nigeria and its people.
The company also recalled that it has already paid the $10 million legal fees reimbursement to the Kano State government in compliance with the settlement agreement.
By Oluokun Ayorinde/Abuja
Copyright protected by Digiprove © 2010 P.M.News
Load more