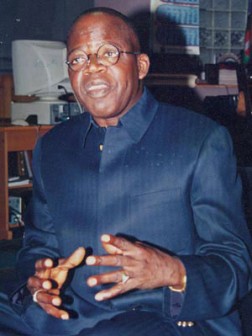 Speech delivered by Asiwaju Bola Ahmed Tinubu, the former Governor of Lagos state at the inauguration of Engineer Rauf Aregbesola as governor of Osun State on the 27th of November, 2010 in Osogbo.
The great people of Osun State!
The irrepressible people of a progressive tradition dating back to the history of Yoruba race.
I salute you today.
I celebrate with you the beginning of a new era after seven and half years of an era of locust during which the clock of progress restored in 1999 by our own indefatigable Baba Bisi Akande was set backwards by the People Destructive Party of Nigeria (PDP).
In 2003, when your votes were first stolen along with those of other progressive Southwest States by the manipulative generals of election rigging, we had thought this was just a mere complacency on our part and that it would soon pass.  Four years later, the same manipulators of peoples mandate again thought they could take our tolerance for granted when the mandate you gave Engineer Rauf Aregbesola at the poll was suddenly overturned and hijacked by the PDP generalissimos.
Their intention was not only to steal your right to elect those you think would give you a good government, but to also kill your spirit, your long cherished spirit of electing a good representative government that always deliver as against the government of the few by the few and for the few.  But you chose to fight back and demand what truly belonged to you.
And despite their acts of intimidation, lies, false accusations, arrests, bombing, rape, and assassinations during which several lives were lost and many injured and means of livelihood deprived, you frankly told them that that spirit of your inalienable right to choose your own government cannot be destroyed no matter the amount of weapon in their possession.
Though, it has been a long drawn battle of three and half years involving having to visit election tribunals twice and the court of appeal twice, involving an array of several brilliant legal minds Nigeria has ever produced and drain on some personal physical and financial resources, in the end the judiciary restored our hope, rekindled our spirit and liberated our collective will which had been shackled by the retrogressive forces.
The more reason why the people of Osun must be forever grateful to Justice Ayo Salami, the incorruptible and irrepressible president of Appeal Court for constituting an equally incorruptible, just and fair-minded panel to consider our appeal.  Therefore, we must continue to commend Justice Clara Ogunbiyi and her entire team for not shying away from getting to the real truth, and nothing but the real truth.
Bt their conduct, they have shown the world that an ordinary man in Nigeria can pursue his right and get justice through our court of law without which our society would generate into a cesspit of anarchy and bloodshed in the pursuit of power to govern.  Those courageous set of justices have also shown that no matter how many years lies travel, the truth will always run faster to prevail.  The judicial courage displayed by our court of Appeal has however, posed serious challenges to our dear nation.    Thus, the first challenge is to tell us that we cannot be deceiving ourselves and the world that we are fighting corruption when we continue to indulge in the worst form of corruption, that of electoral process.
Power, as Lord Acton once said corrupts.
Absolute power corrupts absolutely.  But I add, inordinate quest for power corrupts totally. The worst form of corruption in Nigeria today is inordinate quest for power and the deliberate and shameless manipulation of the electoral process.
Our political landscape today is dominated by people who never had the mandate of their people but were only anointed through electoral heist and robbery.  With such people at the helms of affairs, the fight against corruption can only be meaningless when those who should lead the fight themselves are products of the worst form of corruption.  Therefore, we must begin to insist that out fight against corruption must start from the reform of our electoral process in which only the truly elected person can be accountable to the people.
This is one major challenge before the new INEC chairman ably led by Professor Attahiru Jega.  The new INEC must therefore take judicial notice of what has happened in Anambra, Delta, Edo, Ondo, Ekiti and now Osun as a serious signal that all is not well with our electoral system and that the only solution is to deliver a credible election come next year.
The second challenge is that of the necessity for Nigerians to borrow a leaf from the audacity and tenacity of the  people of Osun to fight and insist to the end that their rights must be restored.  The culture of courage and perseverance as we have seen in the developed democracies of the world is a critical aspect of democratic values that is seriously missing in our own democratic practice.
The word "never give up" is a sprit we must all seriously embrace from now on and across the length and breadth of Nigeria.  For us in the Action Congress of Nigeria, it has become a cardinal aspect of our party culture.  And this is why I must congratulate our great party, the Action Congress of Nigeria ably led by  Chief Bisi Akande who incidentally is the last progressive governor of this state until now.
I wish to also congratulate the Osun state Action Congress.  I salute their audacity, their courage, strength of character and perseverance in the face of a repressive, ruthless and reactionary illegal PDP regime which has just been kicked out of power.  Yet my best salutation goes to Engineer Rauf  Aregbesola and his able deputy, Mrs Titilayo Laoye-Tomori who in the first place gave us an electoral victory worth defending.
Their courage and tenacity of purpose to fight and defend their mandate is a worthy example to all aspiring political leaders.  And as they settle down to govern Osun state, I trust in their principled belief and ability to pursue progressive governance as our great party has shown in Lagos, Edo, and Ekiti states.
I urge the good people of Osun to be patient and have strong belief that the government headed by Rauf Aregbesola given his antecedent will never disappoint nor fail.
Finally, now that the vampires of electoral robbery and vandalism are gradually being vanquished across the southwest and Niger Delta and replaced by good and performing governments as we have shown in Lagos and Edo, it is high time that people of Nigeria realised that it is only one political party in Nigeria that has shown real ability and enthusiasm to deliver good governance.
And that party is our party, the Action Congress of Nigeria.  Therefore, as the train of progressive politics and good governance move from station to station, I say to the people of Nigeria, Join the train NOW and do not be left behind.
Long live Osun State
Long live Federal Republic of Nigeria
Copyright protected by Digiprove © 2010 P.M.News
Load more