In the afternoon of Saturday, 20 November 2010, I was hynoptised in a Lagos bus, dispossessed of all my belongings and dumped on New Era Road at Iyana Ipaja, a suburb of Lagos State, South West Nigeria.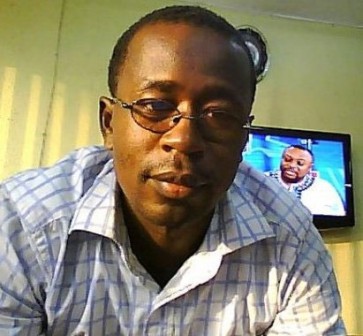 "I was returning from Agbara in Ogun State where I had attended a remembrance service for Mr. Toluwalase Enoch Ojo, a good friend of mine, who died last year after he graduated from the University of Lagos with a degree in Psychology.
"I went to Agbara on Saturday morning and spent about three hours at Rose of Sharon Parish, a branch of the Redeemed Christian Church of God, with many of Tolu's friends where the remembrance service took place.
"I left the church at about 1 O'clock in the afternoon and took a bus at Agbara bus stop to Iyana Iba.
"Between Agbara and Iyana Iba, I shared the front seat of the bus with a Christian woman who is married to a Muslim. We talked about how many rams her family shared during Sallah and how it feels to be married to a Muslim. My conversation with the woman started after we saw some rams at Okokomaiko bus stop.
"When we arrived Iyana Iba bus stop, we alighted, crossed to the other side of the road where the motor park is and bid farewell. It was the last conversation I had that day.
"I boarded Iyana Ipaja-bound bus right at the Iyana Iba Motor Park. It was an 18-seater bus with no bus conductor. The bus driver and two other passengers sat at the front seat of the bus painted yellow with a loud speaker on top.
"I did not see the plate number of the bus because all the buses were lined up and only the number of the first and the last buses could be seen.
"The driver of the bus was light complexioned, rotund and in his early forties. I remember him very well because he came around the bus to collect the fare from us and gave balance to some of the passengers before we set out for Iyana Ipaja.
"I sat on the last seat at the extreme left of the bus. Initially, when I got to the motor park, the first three seats were already occupied, having three passengers each. The last seat had one passenger who sat at the extreme right and made way for me to pass as I wanted to enter the bus.
"We didn't wait for a long before the bus moved because immediately I came in, it took only a few minutes before other passengers moved in as well and as such, I did not know if they were together or not.
"At the bus stop, I remember two men who sat close to me the right side. One of them was a dark complexioned young man in his thirties. He had an unkempt mustache and spoke like an educated man who was, however, desperate for a job. He had a middle belt accent that hid some violence.
"The second was younger and dark in complexion, but he was drunk. I felt he was drunk because of the way he behaved. He gave N500 to the driver and when he was given his balance, he started looking in all directions to locate the driver who was right beside him.
"I did not pay attention if there were women in the bus but I do remember that on the last seat where I was, there were only men. After a little traffic snarl at the U-turn of the park, we left.
"Some moments later, one strange incident happened in the bus.  I felt a hand in my left pocket where my BlackBerry phone was. I held the man's hand but he told me that he was trying to close or open the window. I was a bit suspicious because the window of the bus was higher than my pocket, almost on my shoulders. But I was too weak already at that point to really know exactly what was going on.
"That was the last incident that I could remember happened in the bus because some hours after I left Iyana Iba, I was found by colleagues and friends at New Era Road in Iyana Ipaja, dumped on the street unconscious and dispossessed of my BlackBerry and Nokia phones. I had about N2,000 on me that was not touched, while my identification and complementary cards were also left intact.
"With my P.M.NEWS identity card, a good Samaritan identified me and called Mr. Tunji Oketunmbi, the spokesperson of the Accident Investigation, whose complementary card was also found on me.
"Mr. Oketunmbi, who uses a Glo network, was in Ghana at the time and hesitated to pick the call as he did not want to pay roaming charges. Eventually, he picked and called Mrs. Adebukola Adewale-Oketunmbi and Mr. Wole Shadare, two friends from Channels TV and The Guardian newspaper respectively.
"Adebukola then contacted Ms. Shola Adeko, my friend, who also works for Channels TV.
"These three friends then headed to Iyana Ipaja and contacted Mr. David Odey and Mr. Lanre Babalola, my editor and news editor respectively and a frantic search for me began.
"Eventually, Messrs. Kazeem Ugbodaga, Henry Ojelu and Eromosele Ebhomele, my colleagues in P.M.NEWS, immediately headed to Iyana Ipaja to find me.
"I was found at about 2.30 p.m. on Saturday by these people I mentioned above and taken to the Crystal Specialist Hospital, a private hospital at Okowonjo, a suburb of Lagos, where I was admitted to the emergency unit and placed on drip.
"It was not until Sunday night that I could recognise the faces of Mrs. Tomi Oni and Jeminat Adamson Modupe, my next of kin and colleagues who had come to the hospital to give me support. I was discharged on Monday evening and have not been strong enough to work since then.
"I was told after I was discharged that I was not coherent when I tried to speak, while I was said to have behaved like someone who was drunk. But I do not drink and did not eat or drink anything at the bus stop. My last meal was taken at a fast food joint in Agbara at about 9.30 a.m.
"The point here is that, I boarded a bus at Iyana Iba Motor Park in daylight and was attacked in that bus, robbed and dumped on an inner street in Iyana Ipaja and left to die.
"During the five years I spent on campus reading Mass Communication, I was trained to be extremely careful and advised that buses at motor parks are safer than those boarded along the road. But this tragic experience has proved that criminals have now invaded the parks.
"The Chairman of Iyana Iba Motor Park cannot claim ignorance of the culprits. The buck stops on his table and must be held accountable.
This is not just for me, but to prevent other Lagos residents from falling victim of these desperate drivers who connive with criminals to snuff life out of hapless passengers.
—Simon Ateba
Load more