Black Stars and Sunderland striker, Asamoah Gyan has a secret admirer back in Accra.  The lady, Obaa Yaa wants Gyan to take her to the altar this December or she will  'kill herself.'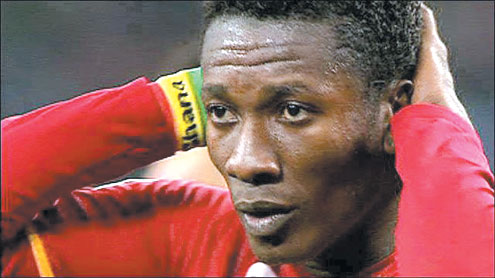 P.M.News gathered today that the Madina-based lady was on Deloris Frimpong Manson's  entertainment programme, Delay on TV Africa at the weekend, professing her 'deep'  love for Asamoah, who would be profoundly surprised his new fame is also grabbing  for him new friends.
While narrating her 'sleepless nights' awaiting Gyan's love, the young Ghanaian  woman, according to a Ghanaian website said the Black Stars arrow head must requite  her love for him. Yaa said she is so madly in love with Gyan to the point that  suicide is the only option, if the soccer star spurns her love proposal.
The crazy lover said: "Brother Asamoah, please I want to tell you that I want to  marry you by this December," she also told a local radio station. "If you don't  marry me, I will kill myself.
"I like his hair style, the colour of his skin make me fall in love with him. Even  his dance moves when he is rapping in his music makes me fall madly in love with  him.
"I am having sleepless nights over this, so, I want him to rescue me by this  December."
Yaa revealed that she is helplessly in love with the football star, and now music  star and she wants him to marry her by 24 December or "I will kill myself," she  said.
She is mesmerized by Asamoah's haircut, skin tone and the excellent skill he  exhibits not only on the football field but also on the music scene.
According to Yaa, she has been having sleepless nights and to prove her love to the  footballer, she has even learnt the star's after-goal dance moves as well as his jig  in the video of Castro's latest hit song African Gils in which Gyan features.
Dark-skinned, bushy-haired and fat Yaa was insistent on "I love you so much" and "I  will kill myself", and was all dancing to "African Girls on the show.
In a swift reaction to Yaa's shocking love advances, the Sunderland striker who  spoke to Ghanasoccernet.com said he will respond to her proposal today.
Gyan was born on 22 November, 1985 in Accra and attended high school at Accra  Academy where he played in the school's football team.
Copyright protected by Digiprove © 2010 P.M.News
Load more