Nigeria's presidential aspirant , Atiku Abubakar, has described the three and half  years of the Umaru Yar'Adua-Goodluck Jonathan era as years of waste.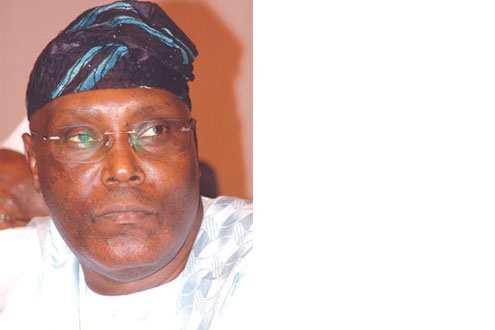 In an interview in London with Reuters, Atiku said ill-health prevented Yar'Adua  from achieving much and that the transition to the Jonathan period has "been  messy.''
"I would say, four wasted years," Abubakar said."WHERE HAS THIS MONEY GONE?"  Nigeria's foreign reserves have fallen by 20 percent in the past 12 months, while a  savings account for windfall oil revenues has dwindled from $20 billion in 2007 to  less than $1 billion now, alarming economists.
"With this administration, all of it has vanished and that's why we keep asking  'where has this money gone?' And we still have high exchange rate, high inflation,  high interest rates … and we don't see anything on the ground," Abubakar said.
"My approach would be to return to fiscal discipline, accumulation of comfortable  foreign reserves and keeping the excess crude (windfall oil savings account) to  actually invest in infrastructure and education," he pledged.
Atiku promised to revive free-market reforms and fiscal discipline in Africa's top  oil exporting nation after what he described as "four wasted years."
Abubakar, who was vice-president from 1999 to 2007, is challenging President  Goodluck Jonathan for the ruling party's ticket ahead of a presidential election in  April. Whoever wins the party primaries is expected to be the next president.
"I will expand the scope of the reforms to make sure that we have a more friendly  environment for foreign direct investment," Abubakar told Reuters in an interview  during a brief visit to London, in answer to a question on the banking sector.
Presenting himself as a champion of pro-market reforms during his time in office,  Abubakar said progress had slowed under the outgoing government and he would create  new momentum.
He said he wanted swifter liberalisation of the oil industry, a break-up of the  dysfunctional power sector into smaller entities that could more easily be  privatised, and greater freedom for the Central Bank of Nigeria.
Abubakar tried to run for president in 2007 under the banner of the ruling People's  Democratic Party (PDP), but he and the then President Olusegun Obasanjo fell out and  Abubakar was forced out of the PDP. He ran as an opposition candidate and lost.
The PDP candidate, Umaru Yar'Adua, was elected but he died in May this year and the  vice president, Jonathan, took over.
In the eyes of many northerners, the next president should be one of them so that  the north gets its full eight years. Abubakar is from the north, while Jonathan is a  southerner.
Abubakar said that he would honour the agreement, meaning that he would stay for  only one term before handing over to a southerner in 2015. He also pledged that if  Jonathan won the PDP primaries, he would accept the result and drop out of the race.
Asked why the rotation agreement should still hold more than a decade after the 1999  transition from military to civilian rule, Abubakar said it was for the good of the  nation.
"We haven't developed politically to the extent that you could throw the presidency  … to anyone who can grab it because what will emerge after that is that the major  ethnic groups will always continue to dominate the political power," he  said.However, he rejected the argument that ethnic sentiment was politically  significant when asked about the Niger Delta, the violent and  impoverished  oil-producing region in the far south.
Jonathan, an ethnic Ijaw from the Niger Delta, is the first person from that region  to become president in Nigeria's 50-year history as an independent nation, and some  analysts fear that if he loses the job after such a short term, it will cause  unrest.
"The Niger Delta is multi-ethnic and multi-cultural and his (Jonathan's) ethnic  group is just one of several … I don't see a risk of instability, certainly not,"  Abubakar said.
Copyright protected by Digiprove © 2010 P.M.News
Load more