The first quarter of this year was a busy period for grassroots football clubs in  Lagos State, as many of them took part in various competitions.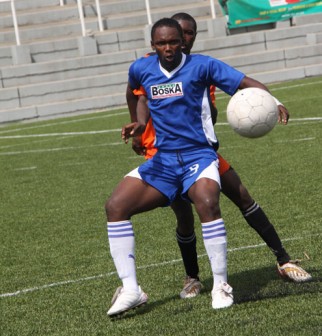 The competitions kept the players fit for the Lagos State Challenge Cup and Boska   Cup, organised by the Lagos Divisional  Football Association headed by Dotun Coker.
Apart from the competitions, some of the clubs also engaged in friendly matches,  which prepared their players for high profile championships.
Linkword Football Club of Ejigbo started their new year on a losing note with a 0-1  defeat by Unity Football Club of Isolo in a friendly tie played at the Ejigbo  Playground.
Linkword Coach, Bolaji Gbenga, then said the defeat was a wake up call and  overhauled the team for other big competitions.
In the Super Cup, which featured 16 teams at the Ladoje Playground, Agege during the  period under review, Dyanamic football Club of Agege emerged  winners. The team  defeated Ladoje FC 5-3 in the final.
A joyous Dynamic Coach, Femi Folarin, then said their victory spurred his players to  perform well in other competitions they featured in.
"Our victory put us in a better position for high profile competitions this year and  we used it to build our team for the challenges ahead of us," he said.
It was however unfortunate that Dynamic FC failed to take part in big competitions.  Folarin pointed out that lack of sponsors affected the club, that were unable to  engage in big competitions this year.
In the All Stars Female Football Competition played at the Astro turf of the  National Stadium in Surulere, Lagos, Nigeria, Brazil defeated Nigeria 5-3 via  penalty shootout after a goal a piece at regulation time.
The grassroots teams used names of their countries of choices in the competition  played among the female clubs both in Lagos and outside the state.
Brazil Coach, Onwuzuruike Norbert, who spoke to GSG , said the competition,  organised to discover hidden talents who would be good enough to feature for the  Junior National team. He was happy that his club won the tourney.
At the Ramat Cup organised by the Youth Sports Federation of Nigeria,YSFON, Katsina  humbled Bauchi State 1-0 to and went home with the trophy.
The pulsating encounter, played at the Sani Abacha Memorial Stadium, Kano was  watched by a capacity crowd.
The president of YSFON, Alhaji Babatunde Ojulari, hailed the organisers for the  success of the tourney. Ojulari, who commended both teams for their good  performance, promised to execute all YSFON programmes lined up for the year.
The first quarter of the year also saw many clubs intensifying preparations for big  competitions like the Boska Cup and Lagos FA Cup, which helped many grassroots clubs  perform well in other tournaments held this year.
Copyright protected by Digiprove © 2010 P.M.News
Load more