As reported by P.M.Sports today, the fantastic bid presented by England was shunned by the Federation of International Football, FIFA, that awarded the 2018 World Cup hosting rights to Russia. Qatar also won the bid to host the 2022 mundial.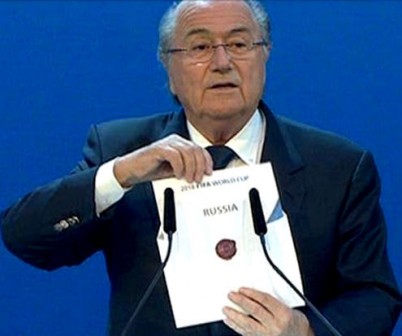 The Joseph Sepp Blatter-led soccer governing body announced the final decision this evening after screening the bidding presentations by Russia, England, and the joint bids by Spain-Portugal and Belgium-Netherlands.
The vibrant bid presented by England may have failed due to many reasons, but reports from Zurich say yesterday's disgraceful act of the Birmingham City fans was not taken lightly by FIFA. Thousands of Birmingham fans encroached on the field of play shortly after their club defeated Aston Villa in the Carling Cup, destroying a possible success of their nation's bid.
Reports monitored on CNN revealed that FIFA's 22 Executive Members selected the winners through a secret ballot, which saw England losing the bid to Russia, who had 9 votes in the first round with an outright majority of 13 in the second round.
This is the first time that the FIFA World Cup would be staged in Russia, but the bidding committee believes the country would host a befitting mundial.
Qatar's victory did not come as a surprise to many as Blatter categirically gave his support to an Asian country in a conference held during this year's World Cup held in South Africa.
Qatar also won with an outright majority of 14 in the fourth round of voting for the 2022 edition at the expense of USA, Australia, Japan and South Korea.
Blatter, after the decisions reiterated the body's commitment to developing football across the globe, while also urging the winners of the bids to start their preparations in earnest.
Shortly after the results were announced, millions of soccer fans in Russia and Qatar jumped into the streets to celebrate their countries' successful bids, while the situation in England, America and other nations that lost out was very calm.
By Tunde Oyedele
Load more