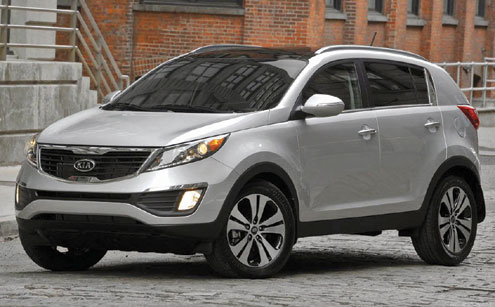 If someone told you a decade ago that some of the best-looking cars on the road in  2010 would be Korean, you'd have laughed hard. With a few exceptions, early Kias  were unexciting. Kia brainstormed and poached Peter Schreyer from Volkswagen in 2006  and installed him as its Chief Design Officer. The same Peter Schreyer, who designed  the iconic Audi TT.
The Kia Cerato and especially the two-door Koup launched in Nigeria before the exit  of Chetan Mehan, the then Marketing Manager, showed that Kia had ditched its  unexciting styling and was ready to party. The new third-generation SUV yet to be  introduced officially to the Nigerian market shows that Kia is really swinging.
Schreyer's philosophy has been to give the brand a recognisable "face" with a  signature grill called the Tiger Nose. In the new Sportage, this sexy nose is  combined with LED lights, outlandish wheels and muscular styling to create a shape  that leaps at you. Apart from being better looking the Sportage is longer and  slightly wider than its predecessor, and slightly lower too, giving it a more humble  stance. The cabin space is quite generous and four full-sized adults won't find  themselves involuntarily close to each other. Though it's not a full-blooded  offroader, ground clearance compared to its predecessor has reduced from 195mm to  172mm.
According to Melissa Lewis, Marketing Manager, Dana Motors, to save fuel, the  drivetrain by default delivers 100 per cent of engine torque to the front wheels in  normal condition. With the AWD lock mode selected, the central diff lock distributes  equal power between the front and rear wheels up to 40km/h, whereafter the AWD mode  will deactivate. Following this, the system will engage the necessary wheel to  assist in traction where needed. HAC (Hillstart Assist Control) prevents slip-back  during stop-start driving up inclines, while DBC (Downhill Brake Control) maintains  a steady 8 km/h speed down steep slopes.
Copyright protected by Digiprove © 2010 P.M.News
Load more