Glowing tributes were paid to the late Emeka Enechi during the launching of a trust  fund held in memory of the former Chairman of Sports Writers Association of Nigeria,  SWAN, Lagos State chapter.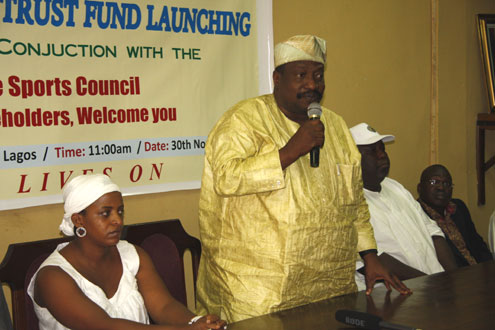 Nigerian sports personalities, who were at the Media Centre of the National  Stadium, Surulere, Lagos, venue of the event, eulogised the late Enechi, saying he  played a prominent role in the development of sports in the country.
Enechi, who died last August at the age of 42 years, was eulogised by the Minister  of Sports, Isa Bio, who was represented by the Liaison officer of the National  Sports Commission, NSC, Mrs. Tayo Oreweme.
Bio said the late Sports Editor of ThisDay Newspapers, was one of the great sports  writers Nigeria ever had. He urged other sports journalists to emulate the late  Enechi, who was a member of the Lagos State Sports Council, LSSC until his death.
The Commissioner for Sports in Lagos State, Prince Ademola Adeniji-Adele, the  chairman at the launch, said the late Enechi left his footprint in the sand of time,  adding that his appointment into the board of the state's sports council was not  because he was a sports journalist, but for what the government felt he could  contribute to the upliftment of sports in the state.
Adele revealed that it was Governor Babatunde Raji Fashola who personally  recommended him for the appointment.
He advised the board of Trust Fund, headed by former chairman of Lagos SWAN, Frank  Ilaboya, to immortalise him by organising an annual  memorial lecture for the late  journalist.
Agboola Dabiri, Chairman of Lagos State Sports Council, LSSC, said he is yet to come  to terms with the death of Enechi. In his words, the late Sports Editor of SportsDay  Newspapers was someone who was fond of making people around him happy.
Dabiri said the board would miss his hilarious contributions during its meetings. He  however charged the personalities present at the launch to strive to make positive  contribution anywhere they find themselves.
Ilaboya  expressed the foundation's appreciation to the participants at the event   for their support and urged them to contribute their own quota to the realisation of  the objective and aim of the Fund.
Over N5m was realised in cash and pledges at the end of the event.
The Late Enechi was survived by his wife, two kids and an aged mother.
—Wale Joseph
Copyright protected by Digiprove © 2010 P.M.News
Load more