Popular song writer, producer and singer, Justice Okey Martins a.k.a. J Martins, here  speaks with Bayo Adetu about his exploits, controversies and other issues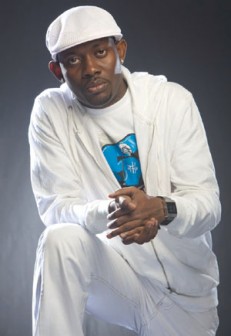 You featured international music star, Fally Ipupa, in your current video, Jupa…?
Yes, he is my very good friend. Actually, I have known him right from the time he was still with Papa Wemba and Koffi Olomide back in the days. I had been studying him and from there, we established contacts. During my childhood days, I had wished to work with certain people, but right now, I thank God that it is people that are running after me. Awilo Longoumba has been on my neck for a collaboration, but for reasons best known to me, I have told him to give me some time. Koffi Olomide is also on the list. This is actually something good for my career and the industry as a whole if you consider that I'm a young man and where God picked me from. Right now, a whole lot of Francophone artistes are on my neck. Even when I was shooting the video of Jupa in Paris, there were about 14 different artistes that wanted to do collabo with me.
Is there any criteria for deciding those you do collaboration with?
I look out for good music, not necessarily money. I like to listen to their story as well, like someone who has gone through a lot and survived it. My godfather used to tell me that there is no real success without a true story. I look out for things that make the artiste different and how he or she has been able to come of age in whatever they do. I also consider if the kind of music I do can blend with what they do; so it is not all about money. If you care to find out, I never asked for a dime in any of my collaborations.
You played an important role in the success story of Bracket, what prompted your relationship with them?
Bracket is part of the family. Originally, they were three, but one messed up and sacked himself, nobody sacked him from the group. He left the group after coming up with some attitudes and character that the others were not comfortable with. The two young guys in the group now, Smash and Vast, are talented and they know what they want and what they are doing. They have a strong passion for music and their management, Ape Planet, is doing well too. So, it is like one bunch of family. And talking about our bigger brothers, Paul and Peter Okoye (P-square), they have been extremely supportive. It is a family thing that we do and everything is being supervised by Jude 'Engees' Okoye.
Recently, there was this rumour that you had a face-off with P-square over ownership of the hit song, E No Easy, which happens to be on the twin brothers' current album?
I wonder how people come up with such rumours. I have said it times without number that E No Easy is P-square's song. They wrote the song and I produced it. Aside the fact that I produced it, every other thing about the song was done by Paul and Peter Okoye and the production was supervised by Jude Okoye.
You mean there is no problem whatsoever between you and P-square?
Absolutely yes. My next album is coming out next year, so people should watch out for my collaboration with P-square. I have said it earlier that we are one family. Even if we have a misunderstanding, we will settle it among ourselves, not on the pages of newspapers. I don't really know where that rumour came from.
You recently returned from an international music tour and there was also this rumour that the tour was not really successful, particularly the one in Switzerland. It was alleged that out of arrogance, you disappointed your fans?
Well, the truth of the matter is that if you are not being talked about, that means you are not important. Out of the 27 shows I did in Europe, it was only four that had hiccups caused by the organisers. We were not supposed to go to all parts of Italy, I'm making reference to this because my tour manager in Europe is DJ Trigger, he is in Vienna, Austria and everybody knows him. We've been to Napoli and some other parts of Italy like Parma and it was a big success, although the Napoli show was the biggest. The organisers used fake credit cards to buy our ticket in other parts of Italy that we were supposed to go, so when we got to the airport, our passports were withheld. They requested for the credit card that I used to buy the ticket and I told them that if they checked their system, they would realise that someone bought the ticket for me. And before we knew it, they had signaled the police who came to interrogate us. God was so kind for those people to return my passport without taking me to the cell. But at the end of the whole thing, I could not stage the show again. In Switzerland, let anyone that was there come out and say that I disappointed my fans because the pictures are there. Our contact person there is called Mr. Sunny and he can testify to it that I didn't have any problem with my DJ and fans as it was being rumoured. We were at the show at the right time and performed to the delight of everybody. I have the pictures which show that it was successful, so I don't know where that rumour came from. The other one was in Belgium. When I was in Europe, I realised that during shows in Belgium, organisers make more money from the sale of drinks than tickets. We got to Belgium a day to the show and went round their clubs so that people will know that we were around. We even took pictures with the fans and all that. On the day of the show, I went for sound check and everything was fine. Before God and man, I called Godson, the show's organiser for more than 20 times from my hotel, but he didn't pick up his phone. Meanwhile, he had told the audience that I would perform by 2.30 a.m. and at about 1.30 a.m., he was yet to pick us from the hotel, the reason why I was calling him. Instead of coming to pick me and my crew from the hotel, we learnt that Godson went to buy more drinks because he ran out of drinks due to the fact that the show was sold out. By the time he did all that, it was already getting to 4 a.m. and the audience were angry and went on the rampage. If he had taken me to the venue for the fans to see, even if I was not going to perform immediately, it would have calmed everybody down. We had to find our way out of the hotel to Amsterdam as could not perform because the fans had damaged the whole place. The last one was at Amsterdam, Holland, which was 25 September this year. I had already travelled, so my visa had expired and I applied for a renewal, which I got. The organisers were supposed to get me a visa, but they didn't, so I had to get it by myself. We had a show in Abuja a day to the Amsterdam show and had already told them in Amsterdam that the show would not hold on that day because we had a national commitment here in Nigeria, but they insisted on doing it. So, we planned that if I had to leave Abuja in the morning via British Airways, I would land in London in transit. With the whole calculation anyway, I was supposed to be in Amsterdam around 6.30 p.m., while the show was expected to start by 9 p.m. After my performance in Abuja, I was at the airport to board a flight at about 5 p.m. The ticket they bought for me was from British Airways and for one to board British Airways, one must have a London visa or transit visa, but I was not told about the transit visa. So, the British people said they could not board me because I didn't have a transit visa. I tried all I could to see if there could be an alternative route, but it wasn't possible. These people (the organisers) bought my ticket but they did not explain the whole thing to me until I got to know very late. During this process, my passport got missing till today, I had to make an official report to the police on the issue. That was why I could not attend the Amsterdam show. Meanwhile, we had not been paid for the show. The agreement was that they would pay us later when we get to Amsterdam. So, I was so surprised because the people in charge of the show had been threatening to kill me. A particular guy that had been calling us among them had been threatening that he had his men everywhere in Lagos and that they would deal with us. I have reported the matter to the authorities concerned anyway, because I cannot fold my arms while somebody is threatening my life. He didn't pay us any advance for the show and we didn't sign any paper for him as well. So I have told him to go to court rather than threatening my life.
What are you working on now?
We are working. My next album will be out next year, so those speculating that I have a problem with P-square should watch out. My next video that will be out is entitled Kudi and will be followed by Change, my best song in the album.
Copyright protected by Digiprove © 2010 P.M.News
Load more