Court bailiffs from Sango Magistrate Court, Ogun State were startled yesterday when they discovered a shrine and a fresh human head tied with a white cloth in the home of a 36 year old defaulting tenant, identified as Tony Okpala. The incident happened at  Olutayo Alao Street, River Valley Estate, Ojodu-Berger, in Lagos.   The bailiffs had gone to the house to eject the tenant according to a court order.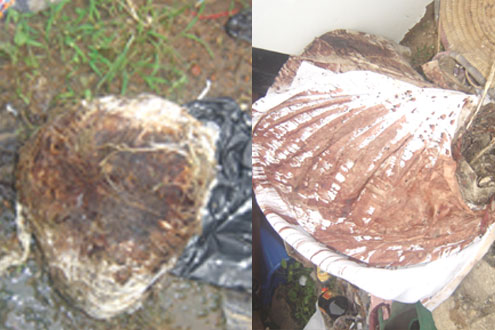 The human head, which was wrapped with a white cloth , alongside other charms, were found inside a shrine in the suspect's apartment.It was not clear whether the defaulting tenant operated the shrine before  the bailiffs came there to eject him on the order of the court.
P.M.NEWS gathered that Okpala's landlord, a civil servant, had dragged him to court following his refusal to pay rent for the past two years. The duplex was rented to him at the rate of N450,000 per annum. He was owing N900,000 as at the time he was dragged to court.
Investigations revealed that the suspect had a wife and seven children. According to his landlord who craved anonymity: "He had three kids when he moved into this house. He gave birth to the other four while leaving here, so, that means it has been a good house for him. But I'm still speechless about what I'm seeing here today. I never expected it."
P.M.NEWS gathered that when the human head and other strange objects with blood stains were found in the house,  he was arrested and handcuffed by the policemen who accompanied the bailiffs, but the DPO of Ojodu-Abiodun Police Station who was also at the scene, told the cops to remove the handcuff. It was in the process of trying to remove the handcuffs that the suspect allegedly escaped.
"Initially, the DPO tried to prevent the bailiffs from carrying out their duties. But when he saw these strange things, he left immediately. Before his departure, he ordered the policemen attached to the bailiffs to remove the handcuffs on him. It was in the process that Mr. Okpala escaped.
"Before going to court, I told him to leave my house without paying the rent he is owing me but he refused. Even when the court gave him an ultimatum, which expired in September, he still refused to quit my house," the landlord told P.M.NEWS.
A source at the Ojodu-Abiodun Police Station confirmed that investigation into the incident had begun.
—Bayo Adetu & Dedeigbo Ayodeji
Copyright protected by Digiprove © 2010 P.M.News
Load more