At least N456 billion ($3 billion) is lost to road accidents in Nigeria annually,  says the Federal Road Safety Commission, FRSC.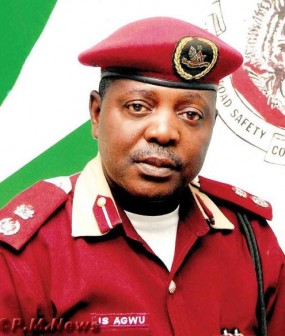 Disclosing this at the weekend in Lagos, South West Nigeria, Assistant Corps Marshal  and Zonal Commander in charge of Lagos and Ogun States, Mr. Aliyu Danjuma, said the  bitter truth is that $3 billion is lost annually to several crashes on Nigeria's  highways.
Speaking at a one-day seminar to flag off road safety campaign, Danjuma lamented the  rising rate of road accidents in the country, saying it was sad that lives of people  were not valued in Nigeria.
He attributed the monumental killings on highways to carelessness on the part of  truck drivers and called for severe punishment for motorists who kill people  carelessly.
"The issue of safety is something we must all take seriously.  Do Nigerians value  lives? The FRSC cannot do this alone.  The success we have achieved in the area of  crash helmet came because we collaborated with the Lagos State Government. Nigeria  must take the lives of its citizens seriously.
"Draconian action should be taken against those whose action or inaction led to the  death of somebody else.  At least, $3 billion is lost annually to crashes in the  country.  At times, you will see new couple driving with their baby on their lap.   This is ignorant. Safety is something that all of us must embrace," he said.
According to him, "We need enforcement. If people bring Tokunbo vehicles and refused  to maintain them, they should get off the road.  They should be punished.  Bad  driving is another problem we face.  There is need for NARTO, owners of these  trucks, to maintain them. Drivers have responsibilities to the populace.
"Don't drive a vehicle when it is not in a good shape. LASTMA and FRSC should not  compromise in the area of enforcement. We want zero tolerance for accidents in  Nigeria.  It is only in Nigeria that you have conductors graduating to become  drivers."
Speaking, General Manager, Policy, Government and Public Affairs, Chevron Nigeria  Limited, Engr. Femi Odumabo, emphasized that "when trucks break down, warning signs  like leaves, drums and stones are not visible at night," adding that trucks should  have red and white tapes on it to enhance their visibility.
He stated that in order to minimize accidents on roads, truck drivers should be  conscious on the road.
Odumabo also advised drivers to be alert and avoid driving under the influence of  drugs and alcohol and keep speed appropriate to road conditions and traffic codes.
Mr. Alex Opene, Head, Truck Safety Initiative, Chevron identified the reasons  accidents involving tanker drivers were rampant in the state to include fatigue;  king of the road mentality; poorly maintained trucks; poor visibility; lack of use  of reflective tapes on body of trucks; axle load issues; poor load retention and  speed.
According to him, the use of retro-reflective tapes will enhance better visibility.  "Better visibility means few crashes and fewer fatalities.  Reflective tape is  proving to be very effective.  From study conducted by the United States National  Highway Traffic Safety Affairs, users of retro-reflective tapes on trucks can reduce  side and rear end crashes by 29 percent, especially at night," he stated.
Mrs. Temidayo Ogan, Executive Director, Temidayo Organ Child Safety and Support  Foundation, an NGO, said the campaign would enable stakeholders take action and  build on the foundation laid by the Lagos State Government on improving safety in  transportation and haulage business in the state.
"It will help reduce the figure of nearly 1.3 million people who are killed  all over the world and another 50 million who sustain injuries as a result of road  traffic accidents," she said.
—Kazeem Ugbodaga
Copyright protected by Digiprove © 2010 P.M.News
Load more