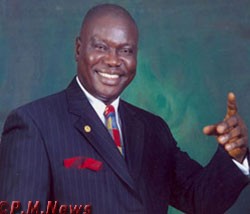 Last Wednesday, December 1, was World AIDS Day and a sobering day for Nigerians. The  revelation by Adeyemi Ikuforiji, Speaker, Lagos State House of Assembly that  HIV/AIDS was ravaging his Epe Constituency calls for sober reflection.
When last year, a survey indicated that the prevalence of the deadly scourge, Human  Immunodeficiency Virus, HIV, and Acquired Immune Deficiency Syndrome, AIDS had  reduced in Nigeria, we all applauded that at least the war against the condition was  being won.
But Ikuforiji disclosed that more cases were actually being recorded and even more  shocking was the revelation by the Lagos State Commissioner for Health, Dr. Jide  Idris that over 1,000 pregnant women have tested positive for the disease in Lagos  State in the last ten months.
The commissioner added that between January and October this year, 28,000 pregnant  women were tested for HIV, and 1,051 of them tested positive, buttressing his claim  with a survey carried out by the National Sentinel Survey which put the prevalence  rate of HIV in the state at 5.1 per cent.
Of the 18 million people resident in Lagos, Idris continued, almost one million are  HIV positive. We wonder how it got so bad to the extent that one in 18 people in  Lagos is HIV positive, if the survey is accurate.
But the report from Zamfara State is at variance with that of Lagos. Dr. Umar  Mohammed, Programme Manager, Zamfara State Action Committee against AIDS says  HIV/AIDS is on the decline in that state. Basing this disclosure on the same recent  Sentinel Survey, Zamfara has recorded improvement from 3.5 prevalence rate in 2000  to 2.1 in 2010.
Mohammed added that there has also been an upsurge in the rate of Voluntary  Counselling and Testing figures.
This new challenge is neither for government nor for non-government organisations  alone, it is one that calls all hands to deck to fight the new threat. If over a  thousand pregnant women have been found to be HIV positive in Lagos alone, we can  imagine how many sexually active Nigerians are today HIV positive without even  knowing their status.
Each time Nigerians are called upon to go for voluntary HIV/AIDS tests, many are  apprehensive of what the result would be because they are afraid of being  stigmatised if found to be positive. Few Nigerians are bold enough to undergo the  test because as someone erroneously joked: it would be like a death sentence.
We all need to step up our acts and become campaigners of safe sex and undergo  voluntary tests. It has been proven that though the scourge has no cure yet, it can  be managed and an infected person can live a useful life and still contribute to the  society. We also need to educate Nigerians on the merits of safe sex and abstinence.
In South Africa and parts of East Africa, AIDS have been known to wipe out almost  all the members of the working population of whole villages, leaving behind hapless  orphans.
Nigerians must be educated on what causes the disease and how to prevent it. The 'no  sex' or 'safe sex' enlightenment campaign must be stepped up. Sexually active  Nigerians must learn that testing positive for HIV is not the end of life.
Though people cannot be forced to go for HIV/AIDS tests, a sustained campaign will  not be out of place. Most of us have forgotten the campaign except a few radio  stations who preach it religiously, everyday.
We must not allow this scourge to wipe us out, we must put up a spirited fight  against it.
Copyright protected by Digiprove © 2010 P.M.News
Load more